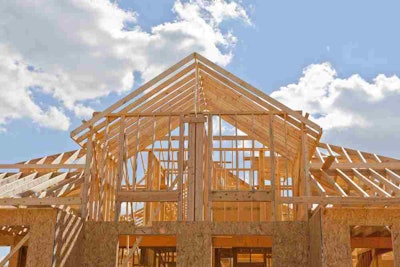 A jump in single-family home construction starts offset a big drop for apartments as total U.S. home starts edged slightly upward in July.
Construction on new homes rose 0.2 percent in July to a rate of 1.206 million and is up 10.1 percent from July 2014, according to preliminary data from the Commerce Department. Homes are being started at the highest rate seen since October 2007, according to a report from Bloomberg.
Single-family home starts jumped 13 percent to a rate of 782,000 in July, up 19 percent over the July 2014 rate.
Meanwhile, following a 36-percent jump in starts to a 28-year high in June, apartments fell back down to Earth in July with a 17.1 percent drop to a rate of 413,000. That rate is down 2.1 percent from the July 2014 mark.
Building permits fell 16.3 percent to a rate of 1.119 million but remain 7.5 percent above the July 2014 rate.
Home builder confidence continues to rise as well with August's National Association of Home Builders/Wells Fargo builder sentiment index reaching a 61. Any reading above a 50 indicates most home builders believe market conditions are good.
"The fact the builder confidence has been in the low 60s for three straight months shows that single-family housing is making slow but steady progress," NAHB Chairman Tom Woods said in a statement. "However, we continue to hear that builders face difficulties accessing land and labor."
"Job and economic gains should keep the market moving forward at a modest pace throughout the rest of the year," added NAHB chief economist David Crowe.