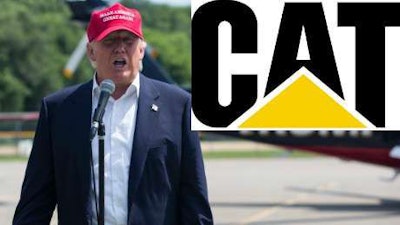 In perhaps a prime example of just how far Donald Trump will reach to underscore his "Make America Great Again" slogan, the Republican presidential candidate has called out Caterpillar's recent financial performance as evidence of how far the country has apparently fallen.
"People are buying Komatsu tractors instead of Caterpillar tractors. I'm telling you, we're in trouble," Trump said in an interview on MSNBC's Morning Joe in June.
Trump's reference to Caterpillar was to illustrate the extent to which the devaulation of the Japanese Yen is negatively impacting American companies. Indeed, in March Caterpillar told Bloomberg that its dealers had reported competing Komatsu dealers "aggressively" cutting prices due to the depreciation.
And while plenty of people have been buying Komatsu machines over Cat long before Cat's recent stock troubles, a report from Bloomberg suggests the leadership in Peoria ought not simply shrug off Trump's comment about the company's struggles.
The publication says Trump's words might inspire an activist investor at Caterpillar to "focus on sprucing up operations."
Thanks to longstanding slowdowns in demand from both the mining and oil markets, Caterpillar's stock hit its lowest price in almost four years in July, Bloomberg reports. Revenues decreased by 13 percent in the second quarter to $12.3 billion while profit fell 29 percent to $710 million.
"But while Caterpillar weathers a bad cycle, there may be some changes it can make in the meantime to assuage shareholder frustration. Sometimes it takes an activist to bring those options to light," the Bloomberg report suggests.
"With terrible end markets, Caterpillar's management is somewhat limited in its actions on that front," Kwame Webb, an analyst for Morningstar Inc., told the publication. "But based on my conversations with various investors, there does seem to be a feeling that management probably could be doing more and be a little more proactive."
For instance, Bloomberg analyst Joel Levington said he believes the company should do more to rectify inventory. The number of days it takes Caterpillar to sell its inventory is at its highest level since 2013. And despite several rounds of layoffs and cost cutting efforts put in place since 2013, Webb suggests the company could probably do more "to tighten their belt on the manufacturing side."