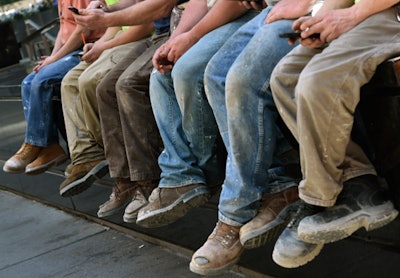 In addition to the industry surveys and anecdotal evidence from states and projects all over the country, you can add two more examples to the group of sources pointing to the shortage of skilled labor impacting the U.S. construction industry.
Joining an Associated General Contractors of American survey last fall which found that 83 percent of U.S. firms are having trouble finding skilled workers, the latest monthly survey of purchasing managers by the Institute for Supply Management added construction labor to its list of "commodities in short supply."
The ISM report, as detailed by The Orange County Register, notes the shortage comes at a time in which construction employment is at its highest rate since 2009 and spending is at its highest pace since 2008. And The Register astutely points out that the shortage has unique qualities and wasn't merely brought on by a sudden uptick in demand, describing the situation as "a labor tightness not seen even in last decade's overheated housing bubble."
While the industry's workforce ages out and younger Americans are either skeptical of its past volatility or uninformed about its oppotunities altogether due to the lack of outreach and training programs across the county, chief AGC economist Ken Simonson told The Register that the impact of the shortage could reach farther than a few contractors in large metro areas being unable to keep up with demand.
"The lack of experienced construction workers may be impeding the industry's ability to start or complete new projects," Simonson said. "The recent acceleration in construction spending may soon level off unless the sector can draw in more workers with the right skills."
Also pointing to the shortage of available labor are hotel developers. According to Hotel News Now, three such developers recently spoke at the Hotel Data Conference in Nashville and described how the shortage is affecting their budgets and their ability to complete projects on schedule.
"Deno Yiankes, the president and CEO of investments and development at White Lodging in Merrillville, Indiana, said he has spoken to contractors who are booked for the next three years," according to the report.
"Everyone is busy, and not just in lodging but real estate in general," Scott Peterson, senior director of development for CSM Corporation in Minneapolis, said. "So finding that skilled labor is the most challenging. We're having trouble finding masons, which is a pretty easy, bulk subcontractor base you can find in any market."
Tim Osiecki of Concord Hospitality said his company is spending an additional $5 million on a $92 million Hyatt in New Jersey in order to pay for all-union labor. "And that's just because there's a workforce pool there that we think is going to get us to completion at least six to eight months sooner," he said.