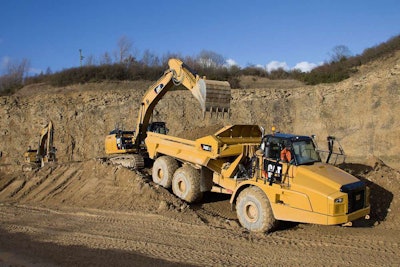 A continued and severe lack of demand for mining equipment worldwide, coupled with lower construction equipment sales in China and Brazil brought Caterpillar sales and profits down during the second quarter.
In earnings released Thursday the company reported a decrease in sales and revenues of 13 percent to $12.3 billion and a 29-percent profit loss to $710 million, or $1.16 per share.
Caterpillar chairman and CEO Doug Oberhelman commended the work of his company's cost control efforts in the face of difficult economic and industry conditions.
"Because we serve cyclical industries, we focus intently on operational execution and cost control," Oberhelman said in a statement. "This is particularly important when sales decline; our goal when sales decline is to manage costs so the decline in operating profit is less than 30 percent of the decline in sales and revenues. We did much better than that in the second quarter."
In addition to the difficulty in mining and with sales in China and Brazil, the company's earnings report noted a decrease in orders for equipment for oil-related applications as well.
Looking forward, though the company's full-year forecast for profit per share remains at $4.70, Cat has cut its expectations for 2015 sales and revenues from $50 billion to $49 billion. "…Currency impacts from a stronger U.S. dollar are causing sales in many countries to translate into fewer dollars than we initially expected," Oberhelman said of the cut.
"While economic conditions in the United States are modestly positive, the global economy remains relatively stagnant," he added. "Many of the key industries we serve remain weak, and we haven't seen sustained signs of improvement. … Prices for commodities like coal, iron ore and oil are not signaling an improvement in the short term. We are committed to controlling costs as we manage through this downturn, and that will position Caterpillar for better results when conditions improve."
The company also announced a stock repurchase of $1.5 billion for the third quarter. The 3Q repurchase follows $500 million repurchased stock in the first half of this year and $4.2 billion repurchased in 2014.