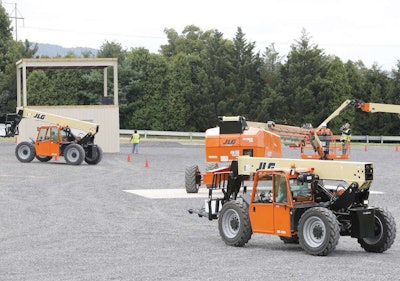 [imagebrowser id=138]
Classes have begun at JLG Industries' new $2.5 million customer training center and proving grounds in McConnellsburg, Pennsylvania.
Quadrupling the size of the company's original training facility, the expansion includes a 4-acre proving grounds course that will allow trainees to get experience operating lift and access equipment such as telehandlers, scissor lifts and boom lifts. The proving grounds have mixed terrain and structures for placing and picking telehandler loads, as well as AWP targets that allow participants to maneuver around simulated power lines.
Rick Smith, senior director of product training, has developed a program that incorporates classroom training and online courses, including e-learning for the lifts. "It's a 4-week course; with three weeks spent in online training and a week spent here," he says.
The online program includes a virtual web-deployed simulator. Remotely accessible, the simulator recreates the training center and proving grounds to scale, and allows the student to simulate operation of the 800S telescopic boom lift and the G10 telehandler.
Three training sessions on each piece of equipment—controls familiarization, a beginner level operating scenario and a more challenging task—help decrease the learning curve when operators first enter a piece of equipment.
Additionally, the facility will offer a unique "train-the-trainer" program, Smith says. "This is an industry changer for train-the-trainer," he says. The three-day course will qualify participants to conduct JLG AWP and telehandler operator platforms that fulfill ANSI/SIA standards, ISO standards and OSHA regulations.
Part of JLG's Ground Support division, the 17,000-square-foot training facility includes 7,000 square feet of classroom, dining and office space, as well as 10,000 square feet of service bays with 30-foot ceilings to accommodate even the largest lifts. The service training program allows graduates to perform periodic inspections, prescribed maintenance and warranty repairs on specific JLG equipment.