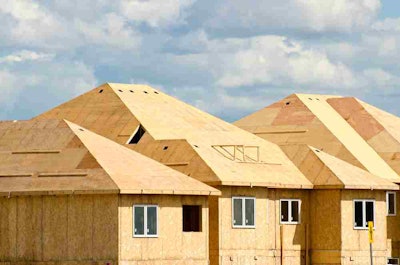 The month-to-month volatility of new U.S. housing starts continued in September, while homebuilder confidence in the market saw its first dip in four months.
Following a 13-percent drop in August, construction on new homes in the U.S. rose 6.3 percent in September to a seasonally adjusted annual rate of 1.017 million, according to preliminary data from the Commerce Department.
In the report, the August total was revised, just barely edging up from a rate of 956,000 to 957,000.
Home starts are now up 17.8 percent over the same time last year.
The volatility of home starts has largely been due to the rate of apartment construction which has seen monthly gains as high as 51 percent this year and dips as low as 31.5 percent. In September, construction on new apartments rose 18.5 percent to a rate of 353,000.
Construction on single-family homes rose 1.1 percent in September to a rate of 646,000.
Apartment starts are 30.3-percent higher than they were at this time last year while starts on single-family homes are up 11 percent.
Meanwhile, homebuilder confidence in the market has dropped, snapping a four-month streak of increases on the National Association of Home Builders/Wells Fargo builder sentiment index. The October index shows a drop from a 59 to a 55. Any reading above a 50 indicates most homebuilders believe market conditions are good.
NAHB Chief Economist David Crowe said in a prepared statement that after reaching a nine-year high in September, it wasn't a surprise to see the index fall back a bit.
"We are seeing a return to the mid-50s index level trend established earlier in the summer, which is in line with the gradual pace of the housing recovery," added NAHB Chairman Kevin Kelly.