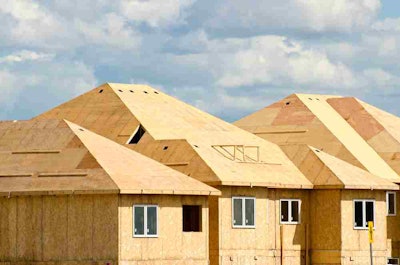 May represented a down month for residential construction in the U.S. as both home starts and permits decreased.
U.S. home construction starts fell 6.5 percent in May as new construction on both single-family homes and apartments saw sizable declines.
Builders started new homes at a seasonally adjusted annual rate of 1.001 million, down from April's revised rate of 1.071 million. April's figure was revised slightly downward from an original estimate of 1.072 million.
May's rate of new home construction is 9.4 percent higher than it was in May 2013.
While apartment construction has been the main fuel to housing's recent monthly increases, it saw the biggest decline in starts during May, falling 8.3 percent to a seasonally adjusted annual rate of 366,000. That rate is still 19.2 percent above May 2013's rate.
Single-family home construction fell a sizable 6 percent to a rate of 625,000, up 4.7 percent from May 2013.
Permits to begin construction on new homes fell 6.4 percent to a rate of 991,000 during May. That rate is 1.9 percent below May 2013's rate of 1.010 million.
As with construction starts, the main culprit with permits was a decrease on the apartments side. Permits for apartments fell 20.4 percent in May to a rate of 347,000. That's 2.8 percent below the May 2013 rate.
Single-family permits on the other hand were up in May 3.7 percent to a rate of 619,000. That rate is down 0.8 percent from one year ago.
Despite the decreases in momentum, homebuilder confidence increased four points from 45 to 49, according to the June release of the National Association of Home Builders/Wells Fargo builder sentiment index. Any reading below a 50 indicates most homebuilders believe market conditions are poor.
"After several months of little fluctuation, a four-point uptick in builder sentiment is a welcome sign and shows some renewed confidence in the industry," NAHB Chairman Kevin Kelly, said in a prepared statement. "However, builders are facing strong headwinds, including the limited availability of labor."