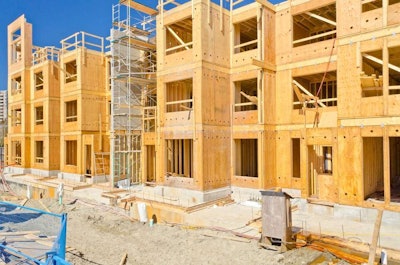 The construction of new homes in the U.S. jumped 13.2 percent during April due to warmer temperatures and a huge rise in apartment construction.
Builders started new homes at a seasonally adjusted annual rate of 1.072 million, up from March's revised rate of 947,000. March's figure was revised upward from the original estimate of 946,000.
April's rate of new home construction is 26.4 percent higher than it was in April 2013.
Apartment construction fueled April's jump with a 42-percent increase to 413,000 units started. That rate is up 70 percent from April 2013.
Single-family starts saw a much more modest increase of 0.8 percent to 649,000, a figure 9.8 percent higher than it was in April 2013.
Permits too were up during April, rising 8 percent to a rate of 1.08 million. That figure is 3.8 percent higher than the April 2013 rate. Single-family permits were up 0.3 percent in April to 600,000 while apartments were up 21 percent to a rate of 453,000.
Despite the increase, single-family home permits are still 3.2 percent below the rate during April 2013 while apartment permits are up 16.2 percent, further illustrating the momentum in apartment construction.
Despite that momentum and the warmer weather, homebuilder confidence fell slightly this month from 46 to 45, according to the National Association of Home Builders/Wells Fargo builder sentiment index. Any reading below a 50 indicates most homebuilders believe market conditions are poor.