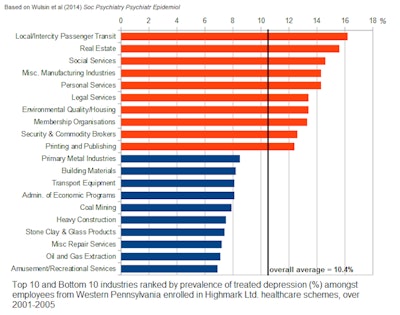 According to a new study, blue-collar jobs like construction, mining and those in the oil and gas industry are among the least depressing jobs in America.
The study, done by a team of researchers in Cincinnati led by Lawson Wulsin, was limited to the region of Western Pennsylvania, according to a report from Discover magazine. So, while it makes conclusions that aren't too surprising, the scope of the research makes it hardly representative of the country as a whole by default.
That being said, the study compiled medical claims of depression for 214,413 working adults between 2001 and 2005. The study included 55 industries with at least 200 employees. Above, you can see the top 10 most depressing jobs in red followed by the bottom 10.
Among the most depressing jobs were several service jobs. The study found that service jobs contributed the most to claims of depression among workers for reasons that make a lot of sense: they are highly-stressful jobs that combine low levels of physical activity with a lot of interaction with often dissatisfied clients or customers. By contrast, an industry like construction combines a lot of physical activity with the fulfillment of working with a team to create something new.
Of course, all of this isn't to say that this is a black-and-white issue. It's definitely possible for blue collar jobs to contribute to depression as well, especially those that involve a lot of repetition. We'd need a study that covers a lot more geographic space to make any type of definitive conclusions.