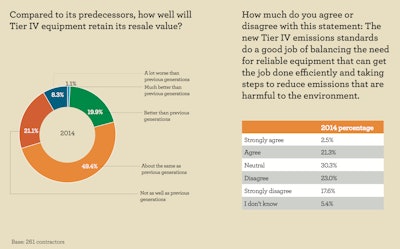 Skepticism around Tier 4 equipment and a continued lack of consistent work will contribute to continued momentum in the rental market, based on data collected by a Wells Fargo Equipment Finance survey in January.
Nearly 30 percent of contractors surveyed said they feel Tier 4 equipment will have a worse resale value than previous generations.
The survey included responses from 261 contractors, 4o percent of which also said they disagree that Tier IV emissions standards have resulted in equipment that strikes a good balance between productivity and emissions reduction.
The Environmental Protection Agency's Tier 4 Final emission standards took effect on January 1 of this year and require all diesel engines made from here on out to include various technologies to drastically reduce particulate matter and nitrogen oxides.
The Tier 1 through Tier 4 Interim standards implemented up until this point have resulted in an impressive reduction in emissions and many of the new engines are more fuel efficient. But there are still complaints and worry from contractors that the engines have hampered productivity.
Beyond that, some estimates conclude that the new technology has raised the price of engines by as much as 10 percent.
That unease surrounding new Tier 4 equipment can be seen in the contractors' responses when asked whether they would be buying new equipment this year.
Just more than a quarter of contractors said they would decrease their acquisitions of new equipment in the coming year while another quarter of respondents said they would increase them. Meanwhile, 35 percent said they would neither increase nor decrease and 11 percent said they would not be buying new construction equipment at all.
The picture for used equipment isn't any clearer. Twenty-two percent of respondents said they would increase their used equipment acquisitions and another 22 percent said they would decrease them. Forty-two percent said they would remain the same.
That means the momentum still lies with rental.
More than half of a respondent base of 175 construction equipment distributors and equipment rental companies said they would be increasing their rental fleets in 2014, while 43 percent said their fleet would remain the same.
Nearly 80 percent of contractors surveyed told Wells Fargo they rented equipment in 2013 and 91 percent say they will rent again in 2014. The vast majority of contractors will either rent the same amount of equipment in 2014 (54 percent) or increase that amount (22 percent).
When asked why they would rent rather than purchase, 73 percent of constructors said it was due to a lack of consistent work. Unsurprisingly, 68 percent said their decision to rent was based on needing project-specific equipment.