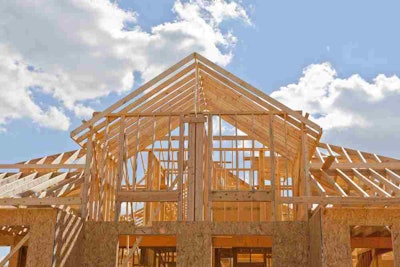 Greatly defying expectations, U.S. housing starts soared in November to heights rarely seen since the housing collapse in 2006.
Housing starts jumped 22.7 percent in November to a seasonally adjusted annual rate of 1.091 million, according to data from the Commerce Department. That's the highest monthly gain since January 1990 and only the second time since the collapse that housing starts rose above a seasonally adjusted annual rate of 1 million.
The total is 19.8 percent higher than November 2012's total and is the highest annual rate in home starts the country has seen since February 2008.
The Commerce Department also released October's figures. Home starts rose 1.8 percent to 889,000 in October. The data was delayed due to the 16-day partial shutdown of the federal government during October.
Both single-family home and apartment starts saw big gains during November. Single-family starts were up 20.8 percent to a rate of 727,000, while apartment starts jumped 26 percent to a rate of 354,000.
Permits were issued at a seasonally adjusted annual rate of 1.007 million in November, a decrease of 3.1 percent from October. November's permit rate is still 7.9 percent higher than the November 2012 rate.
The decrease in permits is thought to be temporary. It's mainly due to a 11.5-percent decrease in the rate of apartment permits issued to 346,000. Single-familly homes were issued permits at a rate of 634,000, a 2.1 percent improvement from October.
Home completions were at a rate of 823,000 a drop of 0.1 percent from October, but 21.6 percent above November 2012. A rate of 596,000 single-family homes were completed in November, down 3.2 percent from October. Apartment completions were up 13 percent to 221,000.