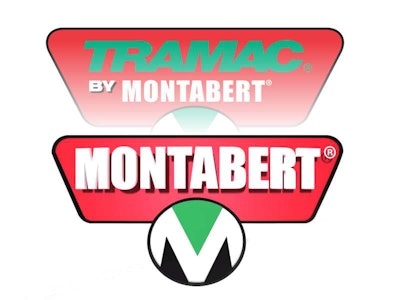 Montabert is keeping the green coloring, but dropping the Tramac brand name from all of its products.
Until now, hydraulic breakers, plate compactors, drilling attachments and pneumatic equipment have been branded "Tramac by Montabert." But in an effort to extend its brand further in North America, Montabert is dropping the Tramac name.
Montabert will start the brand transition this winter and expects it to be complete by March 31, 2014. The transition will culminate with a heightened promotion of the rebranded products at ConExpo-Con/Agg in March in Las Vegas.
Montabert used the "Tramac by Montabert" name as a foundation for its North American brand launch. Montabert says nothing about the manufacturing of the products is changing other than the label.
The company has decided to keep the green coloring of the products to honor the Tramac brand and "to symbolize the global attachment manufacturer that first invented the hydraulic breaker in 1964."
Montabert says existing "Tramac by Montabert" customers and dealers will benefit from the transition through a more direct connection to and communication with the Montabert factory in addition to a heightened level of product support and service.
"In many ways, this represents a brand extension opposed to a brand transition," said Stephane Giroudon, business manager for Montabert North America. "We are confident that our efforts will help Montabert garner the brand recognition it deserves in the United States."
Montabert has also released a video meant to introduce itself to those unfamiliar with the company. You can watch it below.
[youtube gmDLKopAr0w nolink]