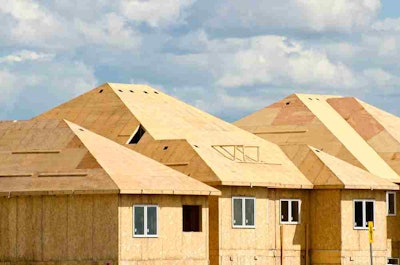 Though the Commerce Department won't release data on housing starts and completions until next month, it reports that building permits saw a sizable gain in October.
Placing blame on the 16-day partial shutdown of the federal government during October, the Commerce Department says it won't have the data for home starts and completions for the months of September, October and November ready until December 18.
In the meantime, the department released building permit data for October, saying the month's seasonally adjusted annual rate rose 6.2 percent from the September total to 1.034 million. That's 13.9 percent over the October 2012 total.
Single-family home permits were at a rate of 620,000 in October, an 0.8-percent gain over September's figure. That total is 9-percent better than October 2012's total.
Permits on apartments saw a big jump, rising 17 percent between September and October to a rate of 387,000. That's a 24-percent jump from October 2012.
And though we're missing three months of actual construction data on housing, builder confidence in the market has fallen a bit but remains positive. According to the National Association of Home Builders/Wells Fargo monthly builder sentiment index, builder confidence is at a 54 in November. Any mark above 50 indicates that builders view the market as good rather than poor.
That marks the index's sixth-consecutive month of positive confidence, though it has fallen four points since the last home construction data was released by the government.
"Given the current interest rate and pricing environment, consumers continue to show interest in purchasing new homes, but are holding back because Congress keeps pushing critical decisions on budget, tax and government spending issues down the road," said NAHB Chairman Rick Judson. "Meanwhile, builders continue to face challenges related to rising construction costs and low appraisals."