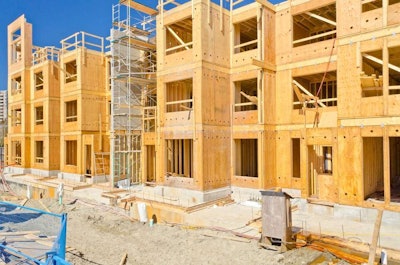 Citing three different political situations it expects to cause continued shifting in construction markets, FMI has again revised downward its forecast for overall construction value.
FMI, a management consulting and investment banking provider for the engineering and construction industry, dropped its forecast for the U.S. value of construction-put-in-place to end at $909 billion this year. That's down from $913 billion forecast in the second quarter and from $919 billion forecast in the first quarter.
The good news? FMI sees things improving by 7 percent in 2014 with early forecasts showing moderate growth of 7 percent to $977 billion.
But for the remainder of this year, potential conflicts with Syria, the implementation of the Affordable Healthcare Act (Obamacare) and the downsizing of government and large companies are the three situations FMI has its eye on with concern that they might negatively impact each construction market.
In terms of residential construction, FMI forecasts growth but expects that growth to taper off to 12 percent in 2014. That would mean an increase to $379.6 billion in residential construction for 2014 compared to the forecasted $338.2 billion by the end of this year.
For commercial construction FMI predicts a 5 percent increase in 2014 due to the market's slow recovery, particularly that of retail bricks and mortar construction.
Despite its healthcare construction forecast slipping 1 percent since last year, FMI expects the market to grow 6 percent in 2014 to $44 billion, noting that predictions in this market are slightly unstable due to business owners being nervous about the costs of Obamacare.
FMI expects manufacturing construction growth to drop by 2 percent by the end of 2013, but predicts it will rebound to 4 percent growth in 2014 thanks to the resurgence of the automotive industry.
Due to the MAP-21 highway bill calling for nearly $38 billion for the Federal-Aid Highway Program, FMI predicts $80 billion in highway and street construction in 2014.
Finally, FMI says an increase in residential construction and tax revenues will help bring education construction back in many parts of the country. Due to budget cuts for government spending at all levels, FMI sees the national education market rising only slightly in 2014 to 4 percent over 2013 levels.