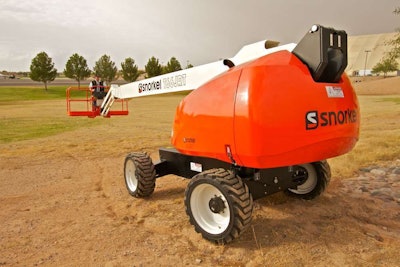 Telehandler manufacturer Xtreme Manufacturing and aerial work platforms maker Snorkel have reached a deal that will see majority ownership of Snorkel transferred to Xtreme.
The news is particularly interesting since Xtreme is owned by Don Ahern, who also owns Las Vegas-based Ahern Rentals which filed for Chapter 11 bankruptcy in late 2011.
Ahern was able to retain ownership of the business by convincing creditors to implement a reorganization plan of his own design and the business has recovered and done well in the past 18 months.
According to Access International, the strategy behind the deal is for "Xtreme to use Snorkel's global sales network to boost exports of its telehandlers, while Snorkel's volumes will be increased by sales to Ahern Rentals, historically one of its biggest customers."
Tanfield shareholders will vote on the proposed deal on October 7th. Tanfield would retain a 49-percent share of Snorkel but CEO Darren Kell, powered access division managing director Brendan Campbell and finance director Charles Brooks will be leaving Tanfield to join the new Snorkel business.
Should Snorkel hit profit targets in the next five years, Xtreme will pay Tanfield $50 million. At that point, Tanfield's share in Snorkel would fall to 30 percent and it will have the option to sell that remaining share.
As part of the deal, Xtreme would invest between $35 million and $50 million on a recovery plan for Snorkel.