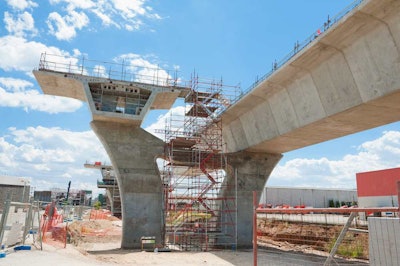 Highway construction was up 4.3 percent in January over January 2012, largely due to warmer weather, according to the American Road & Transportation Builders Association (ARTBA).
Each month ARTBA analyzes U.S. Census Bureau data and reports the outcome.
"With warmer-than-average temperatures across the country, many contractors were able to get more work done on transportation projects, providing a market boost early this year," said ARTBA Chief Economist Dr. Alison Premo Black in a prepared statement.
Highway construction activity dipped a total of 4 percent during the course of 2012, so a gain like January's is welcome news. However, Black warned that there are several threats to the upward trend continuing.
First, while states as of late have been obligating federal dollars at a decent pace, ARTBA reports that contract awards for highway projects have been down while nearly half the states oull back on their programs.
Then there's the federal budget situation. The sequestration cuts took effect March 1 and just about all talks concerning the budget moving forward are at a virtual stalemate. In all, the sequester will cut $4 billion from federal construction programs.
The Highway Trust Fund was largely exempt from the sequester cuts, but the Highway Emergency Relief portion of the $50.5 billion Hurricane Sandy recovery bill passed in January, will undergo $101 million in cutbacks from an original budget of $2 billion.
Plus, Black says it's unclear whether or not Congress will fund the highway and transit investment increases authorized last summer, or if it will hold funding for these programs at the 2012 levels.
Another $545 million is being cut from the $10.9 billion allocated by the recovery bill to emergency transit aid.
"We are looking to see how state and local governments will deal with the federal budget sequestration, which went into effect March 1," Black said. "While the federal highway, airport and non-capital transit investments will not be cut, the reductions in other programs adds further uncertainty into an already challenging situation for many state budgets."