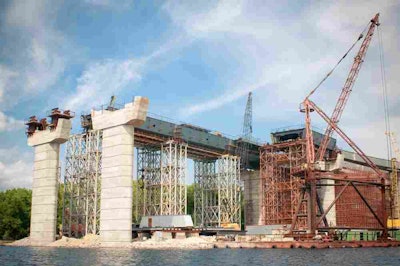 Sequestration, the automatic federal spending cuts that took effect on March 1, will cut more than $4 billion from federal construction programs according to data from a report to Congress from the Office of Management and Budget.
Largely exempt from the cuts are the Highway Trust Fund and the Airport Improvement Program. However, most federal programs will see cutbacks of 5 percent, according to a post from the Association of Leaders in Equipment Distribution.
While the country's General Fund payment to the Highway Trust Fund will not be affected in 2013, it will see a reduction of $316 million in the future. The amount of General Fund funds eligible for cuts totaled $6.2 billion for FY 2013.
The Highway Emergency Relief portion of the $50.5 billion Hurricane Sandy recovery bill passed in January, will undergo $101 million in cutbacks from an original budget of $2 billion. Another $545 million is being cut from the $10.9 billion allocated by the recovery bill to emergency transit aid.
In terms of defense cuts, Air Force construction will be cut by $151 million, Army construction will undergo a cut of $408 million, while Navy and Marine Corps construction will be cut by $297 million.
Transit Capital Programs will see a $96 million reduction from an original $1.9 billion budget while the construction arm of the Army Corps of Engineers will undergo a $250 million reduction from an original budget of $2.3 billion.
The Airport & Airway Trust Fund (grants-in-aid), will experience more than $50,000 in cutbacks from a budgeted $1 million in sequester-eligible funds from the Airport Improvement Program.