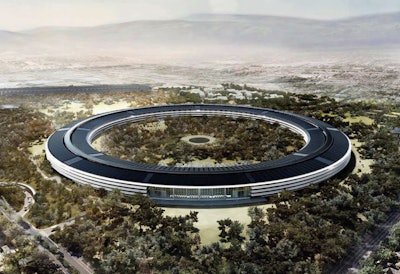 Though the iconic technology company originally planned to move in by 2015, it's likely that construction of Apple's new futuristic and (very) green campus won't even be completed until 2016, Bloomberg reports.
Apple says it has taken just as much care into designing the campus, appropriately named "Apple Campus 2," as it does in designing each of its popular products. The 2.8 million square-foot campus will house some 12,000 employees and will be one of the largest buildings the world, with a unique circular design and 7,000 trees.
The project is so important to the company that  as if it were the next iPhone, Apple founder and former CEO, Steve Jobs himself made the initial presentation in a keynote to the Cupertino, California city council shortly before his death.
The campus plans themselves haven't changed much. A 1,000-seat auditorium has been moved further away from one of the nearby roads and more parking spots were added. The main reason for the delay in breaking ground is the late date at which Apple submitted its updated proposal.