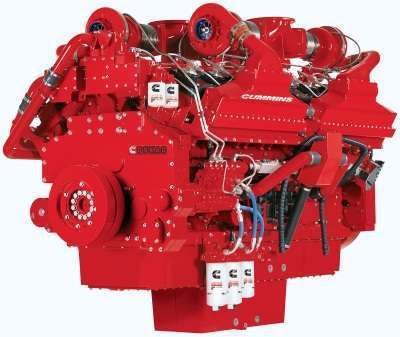 Working under the theme "ready for more," Cummins' Tom Linebarger, chairman and CEO, says the company is showing this theme in three basic ways:
With an expanded product line, both at the high and low end. The company now has engines ranging from 49 to 4,200 horsepower.
With a simple, previously announced Tier 4 solution. The company's SCR component has the same basic footprint as the muffler it's replacing.
Expanded customer support, including an emphasis on remanufacturing, responding to a larger engine population. Cummins says it expects its rebuilding process to mirror its new build process by 90 percent, giving factory precision to the rebuild area. The company expects to double its rebuild capacity by 2016.
Linebarger's remarks were made at MINExpo, now being held in Las Vegas through Wednesday. 
In addition, Cummins is now adding dual fuel natural gas options, which it sees as a huge opportunity in mining.  The first Cummins dual-fuel engine, the QSK60, is now being field tested, with a fuller announcement promised "in the coming months."
Cummins says its dual-fuel engines will use integrated controls that optimize the substitution rate based on operating conditions, seamlessly transitioning between diesel and dual-fuel modes.
"The dual-fuel opportunity is huge in mining," says Mark Levett, vice president and general manager, high horsepower business. "Mining trucks can use 1.5 million gallons of fuel a year, and this could save them can save $500,000 per truck per year. "