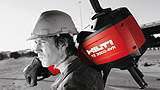 After 13 years, Home Depot and Hilti are calling it quits.
I'm disappointed, but not surprised. I am suprised it lasted 13 years.
There has been an inherent conflict between manufacturers of high-quality, high-cost tools and the management and pricing philosophy of the big box retailers. That's why it's almost impossible to find a ruggedly built, durable power tool through consumer retail channels anywhere in the country.
Years ago Wal Mart described their philosophy as "driving the cost out of our products," but what in reality happened was that if you wanted to sell to the big box chains, not just Wal Mart, but Home Depot and Lowes, you had to drive the quality out of your products. And that made it almost impossible for companies like Hilti, Metabo, Festool and other manufacturers of the good stuff to get shelf time.
I don't blame the big box boys. Given a choice between a cheap tool at a low price and a professional quality tool at a higher price, the average weekend lumpen proletarian will go cheap every time. What's a retailer to do?
But it irks me that the good stuff is so hard to find. When I got out of the Army some 25 years ago there were still retail stores that sold nothing but tools–high quality and every brand imaginable–and they had repair staff on site who could do warranty work or fix the occassional operator fubar. Those places are all but gone now. Most tradesmen I know will just throw away a broken portable power tool if it's out of warranty and replace it with new.
DeWalt fought this battle as well as anybody could. They make lower priced models for the big box retailers, but they try to engineer in enough value so that they're not making disposable tools. I remember a conversation I had with a DeWalt executive a few years ago at the World of Concrete. He told me that the company no longer participates in a lot of the trade shows that focus on consumer and retail products. Rather they were seeing better margins and better business going upscale with commercial grade products and shows for professional contractors such as the World of Concrete.
If the consumer channel continues to get cheaper and/or commercial construction picks up again, perhaps Hilti and their high-quality competitors can find, or fund, a more appropriate channel, such as dedicated tool stores. Until then, I'm shopping the catalogs.