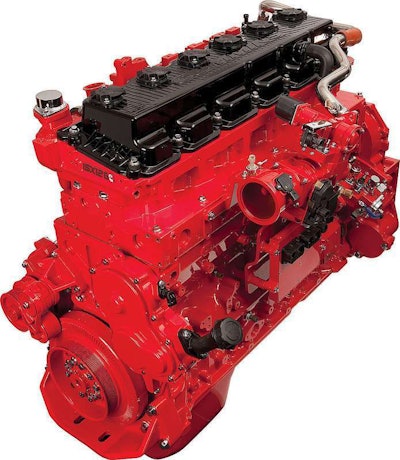 Kenworth Truck Co. is expanding its line of green products by offering the Cummins Westport ISX12 G heavy-duty natural gas engine for use in regional haul, vocational and refuse markets. The new engine requires a single fuel source and can run on either compressed (CNG) or liquefied (LNG) natural gas.
The ISX12 G will be available with the Kenworth T660, Kenworth T800, Kenworth T800 short hood, and the Kenworth W900S. The ISX12 G will come with a range of ratings to 400 horsepower and 1,450 ft-lbs. of torque, optional engine brake and manual and automatic transmission capabilities.
"Kenworth continues to work closely with Cummins Westport in the development and testing of this engine to ensure we can offer customers an engine platform that works well with Kenworth chassis," said Michelle Harry, Kenworth natural gas vehicle marketing manager, in a press release.
Andy Douglas, Kenworth national sales manager for specialty markets, says the ISX12 G will "really complete Kenworth's line of factory-installed natural gas engines, which includes the 15-liter Westport HD and the 8.9-liter Cummins Westport ISL G."
Douglas notes that the ISX12 G would work well for the operational needs of regional and refuse haulers that require a little more power and torque than offered by the ISL G, but that don't need as much as provided by the HD.
"We think the ISX12 G really opens the door for many operators in regional, refuse and pickup and delivery applications to consider natural-gas powered engines as a viable choice for an engine platform," Douglas said.
The Cummins Westport ISX12 G engine operates on either compressed natural gas or liquefied natural gas. The natural gas engine uses a maintenance-free, three-way catalyst and does not require a diesel exhaust fluid (DEF) tank, diesel particulate filter (DPF) or selective catalytic reduction (SCR) technology.
With more natural gas fueling facilities opening across the United States and Canada, particularly along well-traveled corridors, and with more North American production coming on line in the months and years to come, Douglas says he expects natural gas to become an even much more readily accessible fuel.
"With the right spec'ing choices, many operators have the potential to realize significant reductions in emissions and fuel costs, particularly if they're replacing trucks with older diesel engines with Kenworth trucks powered by the ISX12 G," he said.
Douglas said environmental stewardship, which can be an important factor for truck operators in attracting new business, provides another reason why the ISX12 G promises to be a popular choice. The engine will allow truck operators to meet current and future environmental regulations more easily.
When the ISX12 G is launched in 2013, Cummins Westport expects it to be certified to meet the U.S. Environmental Protection Agency and California Air Resources Board emission standards of 0.20 g/bhp-hr NOx and 0.01 g/bhp-hr PM. The engine is expected to be capable of meeting EURO VI and pending U.S. greenhouse gas and fuel economy regulations, he added.