Don't get stuck on surety bonds
One option for contractors searching for work is governmental jobs that typically require surety bonds. And all federal construction projects that exceed $100,000 require bonds.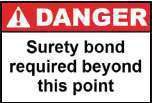 "Bonds are a form of guarantee that the job will be completed," says Robert Berman, CEO and co-founder of Ox Bonding. "It's a difficult process. It's no different than a small business going into a bank trying to get a credit line."
He encourages contractors to maintain adequate working capital, a good credit score and a list of positive references. "If someone has a problem getting bonded, it's usually because of poor credit, references and financial statements." To prepare for the bonding process, he says they need to organize all of their records and understand their business. Contractors should also show the surety provider information on their largest project. Enrolling in a surety program before a bond is needed is a good way to shorten the process when one is needed.
"Without the bonding, you don't get the work."
General contractor Joe Bucci, of Bucci Associates in Glen Rock, New Jersey, learned this the hard way after an insurance company declined to bond his firm. "Without the bonding, you don't get the work," he says. He suggests going to a surety specialist, instead of an insurance provider.
Being bondable sets contractors apart and means they have someone who's willing to stand behind them, says Susan Reich, vice president of Florida Surety Bonds. "It shows someone impartial has taken a look at a contractor's performance, credit, financial statements and working capital and recommends them for a specific project," Reich says.
Equipment can also affect a contractor's chances at getting bonded. "Some contractors just financed too much equipment," Reich says, "and they haven't had enough work to pay for the machines." She says it is a balancing act between buying the equipment they need and having enough liquidity to pay their bills.
"The key thing for small contractors is to pay their personal bills promptly," says Reich's husband Jeff, president of Florida Surety Bonds and member at large of the National Association of Surety Bond Producers. "They need to make sure their personal credit score is good."
Definition:
A surety bond is a contract between a contractor, their client (mainly government or public money projects) and the surety provider to ensure the contractor performs the work on time and according to the agreement.
What's involved:
General application, financial statements, contractor's resume, credit scores, bond form
Benefits:
Meet requirements for public sector and avoid penalties and fines
Challenges:
Credit score and financial statement approval
Tips:
Get organized, think about business, give good references, improve credit, talk to a bonding specialist
BRIEFS
JLG recognized in Popular Science
Popular Science magazine has selected JLG Industries' 1500SJ boom lift for its Best of What's New 2011 list. One of 100 concepts recognized, the boom lift was featured in the engineering category. The 1500SJ is the first straight boom lift that can take workers up to 150 feet, while requiring only a weight permit for transport.
'The Road Connection' tour kicks off
The Road Connection, a yearlong nationwide initiative that showcases the importance of quality roads throughout North America, is designed to bring attention to the need for a new

transportation bill. The tour's truck stops at trade shows, industry events and KPI-JCI and Astec Mobile Screens distributors, spreading the word through social media. For more information or to find out when the truck will be near you, visit theroadconnection.org. Scan the tag below with your smartphone to see a video on road needs.
Surveys track optimism
A GE Capital survey of construction equipment dealers found 40 percent of respondents saying sales would increase this year. And 77 percent said the best time to increase inventory is within the first half of 2012. Not all is optimism, however: 57 percent said construction's flat demand will be the biggest hurdle to overcome this year.
A Wells Fargo Equipment Finance survey of construction dealers and contractors raised the survey's Optimism Quotient from 96 in 2011 to 114 for 2012. (A number above 100 is considered optimistic of year-over-year improvement in local non-residential construction activity.) More than 73 percent of dealer respondents said they expect increased sales this year. About four in 10 respondents, however, said they anticipated fewer contractors in their markets by the end of the year.
BRIEFS
Exodus Machines in Cat lineup
Caterpillar will sell and support Exodus Machines' material handlers under the terms of a new alliance formed with the Superior, Wisconsin-based company. The material handlers will be Exodus-branded until 2013, when they will transition to the Cat brand. Cat has a minority equity interest in Exodus, and the product will be handled by the new Caterpillar Industrial and Waste Group.
Manitou, Yanmar form strategic alliance
As part of a strategic alliance, Manitou Group will launch a line of compact excavators manufactured by Yanmar, marketed under the Gehl and Mustang brands for North America. Manitou's Compact Equipment Division will design and manufacture a line of skid loaders and compact track loaders to be distributed in North America under the Yanmar brand. Manitou has ended its distribution agreement with Wacker Neuson, which provided compact excavators and all-wheel skid steers to Manitou since 1999. Manitou and Yanmar say they will look at "broader distribution opportunities aimed at growing sales activities in both companies."