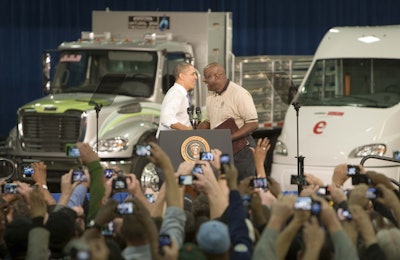 During a visit to the Daimler Trucks North America (DTNA) manufacturing facility in Mount Holly, N.C., today, President Barack Obama announced a $1 billion National Community Deployment Challenge designed to spur deployment of clean, advanced vehicles in communities around the country.
He also congratulated Daimler on the production of its 1,000th Freightliner natural gas truck, and for adding 1,000 workers to the plant last year, many of whom had been laid off during the recession.
The President says under his program, the federal government will help communities that buy vehicles powered by alternative energy to "cut through the red tape and build fueling stations nearby." He spoke before an audience of United Auto Workers Union members, local dignitaries, local and national media and the trucking trade press, after taking a brief tour of the facility.
The President chose to visit the Mount Holly plant in part because of DTNA's commitment to green technologies. Last month, DTNA became the first and only commercial vehicle manufacturer to be certified as GHG14 compliant by the Environmental Protection Agency. The company's complete portfolio of model year 2013 on-highway, vocational, and medium duty vehicles received certification one year ahead of the mandate.
"Daimler Trucks North America has long been committed to reducing greenhouse gas emissions and improving fuel efficiency through the development of clean drive systems and alternative fuel technologies," said Martin Daum, DTNA president and CEO. "Through strategic partnerships with the EPA and the National Highway Traffic Safety Administration, DTNA is committed to producing clean, fuel efficient, and environmentally sustainable solutions for the North American market."
The Mt. Holly plant is part of DTNA's network of commercial vehicle manufacturing facilities and produces the company's Freightliner Business Class M2 and severe-duty product lines, including the M2 112 and 114SD natural gas vehicles, and the M2 106 hybrid vehicle. In 2011, the company hired more than 1,000 workers and added a second shift. Currently, the facility employs 1,450 associates and produces 25,000 trucks annually.
The President also announced incentives to help consumers and businesses purchase new, advanced cars and trucks, including increasing and expanding the current tax credit for advanced vehicles, from the $7,500 credit that currently exists up to $10,000, while allowing the credit to be applied to additional types of technologies, not currently covered. In addition, the President announced a new research challenge that invests in breakthrough technologies to make electric vehicles as affordable and convenient to own and operate as gasoline-powered vehicles by the end of the decade.