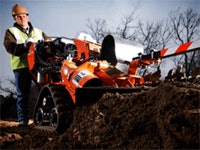 The Charles Machine Works(CMW) Inc., manufacturer of Ditch Witch® underground construction equipment, has introduced a new line of compact and powerful walk-behind trenchers. The Ditch Witch RT12, RT16, RT20, and RT24 are designed and manufactured to provide an exceptional return on investment for small business owners, particularly equipment rental companies. Heavy-duty components, low-maintenance hydraulic systems, and standard outboard bearing supports are among the many features that add up to unbeatable efficiency and value.
Heavy-duty frames and components to stand up to the toughest jobsite conditions. Chains, teeth and sprockets are specially designed and manufactured to work together to provide exceptional productivity, and last longer than any other digging system. Superior-quality Honda engines run hard all day job after job, year after year.
Every component, every detail of the Ditch Witch® RT walk-behind trencher family has been contemplated, evaluated, and executed to create machines that will give you the absolute best bang for your buck—period.
An investment in Orange Iron is an investment in the gold standard of walk-behind trenchers. Here are some of the key features of this unbeatably productive equipment line.
KEY FEATURES
Heavy-duty components include a drive linkage that is built to last and designed to simplify operation and maintenance.
Standard outboard bearing support stabilizes and supports the headshaft and auger, for reliable productivity trench after trench.
No belts to maintain—or break—because Ditch Witch walk-behind trenchers are equipped with direct-driven hydraulic pumps, independent ground-drive hydrostats, and a hydraulic gear pump for auxiliary functions.
Hydraulic, skid-steer-style steering makes RT-series trenchers more maneuverable and more productive.
Easy hand controls: one hand for mobiling, two hands for trenching; all controls—including engine throttle, chain-engagement, and boom lift—are grouped conveniently at the operator's station.
Your choice of high-flotation tires or heavy-duty tracks, both of which provide the stability and traction to drive across trenches, curbs, and rough terrain; oscillating tracks "walk" or oscillate 12 degrees, for extra stability.
Solid-rubber trail wheel increases stability when traveling over uneven and rough terrain, reduces breakover when loading and unloading, and improves leverage when trenching.
Exceptionally reliable and durable Honda engines power the RT12, RT20 and RT24, while the RT16 offers an economical and reliable Briggs & Stratton Vanguard engine; all models equipped with electric starters.
In tough ground conditions, torque to the trencher chain can be increased by replacing the digging system's standard 12-tooth sprocket with a 10-tooth sprocket.
Optional, affordable backfill blade is easy to install and reduces cleanup time and manual labor.
Support from a worldwide dealership network dedicated exclusively to sales and service of the Ditch Witch product line; every dealer is extensively trained to provide superior customer support, including genuine Ditch Witch parts that extend the life of your equipment.