Commercial Pavers Get On Track
Asphalt pavers under 125 horsepower increasingly taking on characteristics of their highway-class big brothers
By Mike Anderson
It's a small group of mostly niche players that supplies commercial-class asphalt pavers to the North American construction market. But even with BOMAG's recent decision to exit the paver business, the remaining players offer products with plenty of heft. Although these machines may be working on pathways, parking lots and street patches, many of them offer highway-class paver features.
"We were the first in the commercial paving industry to introduce an electrically-heated screed," says Brian Hall, territory manager with LeeBoy. "This gives our users a more environmentally-friendly solution at a cost savings over the life of the machine. Wide, slow-moving conveyor flights extend the time between replacements of those components, including the augers, which do not need to run when paving at narrow widths. Segmented augers reduce the need to change augers if they are only partially worn."
LeeBoy's offering encompasses the range of the commercial-class pavers, with six tracked asphalt pavers ranging from the 5-foot-basic-width 5000 Path Master to the 8- to 15-foot 8500B Series machines.Its product offering runs from the limited-volume, box-gravity feed type – the "tilt hopper" 1000F model – to machines featuring the chain-conveyor-fed design standard on full-size pavers, topped off by the dual-deck-configuration 8515B.
Players in the game
While the number of players in the commercial paver market has dropped – brands such as Pro-Pav and AEM left long before BOMAG pulled back – the under-125-horsepower market continues to be well served (see Machine Matters Roundup on Page 38). In addition to LeeBoy they include:
• The Mauldin line, manufactured by Calder Brothers, offers machines with both box-gravity and chain hopper conveyor types. Among screeds made by Mauldin, the Freedom line is up to its third rendition using "patented technology that allows the extension mat to match the main screed mat automatically," says sales manager Royal Cole. Mauldin prides itself on its high-density screens.
"Although these machines may be working on pathways, parking lots and street patches, many of them offer highway-class paver features"
• A longtime leading supplier of screeds, Carlson has leveraged the technology of fellow Astec brand Roadtec, a manufacturer of highway-class pavers.
• Compact construction and agricultural equipment manufacturer Gehl continues to offers two box-gravity feed tracked asphalt paver models.
• And, most significantly bringing the commercial and highway-class worlds together, Wirtgen Group's Vögele is the only brand to appear regularly throughout both tracked and wheel-type asphalt paver charts in the 2011-2012 Equipment World Spec Guide.
Big on features
The 100-horsepower Super 1300-2 model boasts the ErgoPlus control system, a highway-class paver feature that includes a swing-out paver operator's stand, paver and screed state-of-the-art control consoles, and the optional Niveltronic Plus automatic grade and slope control system.
The paver operator's console consists of four modules that control conveyors, augers and traction; screed; material hopper and steering; and displays for vital and secondary paver functions. A single module can be replaced without having to swap out the entire unit.
"Our 2D and 3D systems for grade and slope control and navigation, as well as a wide range of high-precision sensors, allow construction of perfect pavements of superb smoothness, true to line and level," says Bruce Monical, marketing manager, Wirtgen America. He adds that Vögele is the only manufacturer using pulsed-flow hydraulics.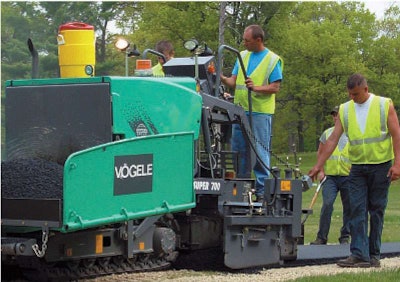 Available throughout Vögele's tracked asphalt paver line including on the smaller Super 700 model, the Eco operating mode reduces the Super 1300-2's engine output to a level adequate for most paving applications. "With the hopped sides folded up, its basic transport width comes to no more than 6 feet and it has a 6-foot length," says Brodie Hutchins, general manager, Vögele America. "As a result, it can be driven nearly anywhere and fit through almost any gap. Yet, it can still pave up to a width of 16 feet 5 inches."
DID YOU KNOW?
Admittedly, the engine cranks, but won't start. And the main components could not be operationally checked.
Even so, a Champion (Pro-Pav) 575T commercial-class asphalt paver with 1,190 hours on it still drew 36 bids and remained on the clock for 21 minutes – more than three times the six-minute minimum window – during IronPlanet's Feb. 9 online equipment auction.
And, well beyond the normal auction ratio, the closing bid price was almost four times that of the opening bid. Sure, the prices were low – the piece opened at $1,500 and closed at $5,700 – but the activity around this commercial-class paver was nonetheless impressive. The selling price was slightly above comparable paver models on the used iron auction scene at that time, but logically a mere fraction of the prices being fetched for late-model machines. IronPlanet recently sold a 2008 BOMAG BF4413 for $33,000. Highway-class units have fetched upwards of $200,000.
The diesel-powered Champion paver with a 7 foot 6 inch screed went to a buyer located in New York State – from where it had been placed up for auction.
ROUNDUP
LeeBoy
Now a brand of VT LeeBoy, the LeeBoy commercial paver family includes three tracked models in the recently introduced 8500B Series, available in low- and high-deck configurations or, in the case of the 8515B, both. Equipped with standard 8- to 15-foot heated and vibrating Legend screed systems, 8500B Series pavers are available with Caterpillar or Kubota engines ranging from 63/67 horsepower for the 8500B to 83/84.5 horsepower for the 8510B and 8515B. The Legend screed has two propane burners on the main screed and one burner on each extension; an environmentally-friendly, cost-sensitive electric heating system is optionally available with the same element configuration. The screed's hydraulic extensions are uniquely mounted in front of the main screed for, the company says, a seamless mat. The LeeBoy commercial paver offering also includes the low-deck 5000 Path Master with a 5- to 9-foot paving width, and the tilt-hopper 1000F Track and low-deck 7000 Track models, each with an 8- to 13-foot range. All models with a basic screed with of 8 feet may be equipped with single electronic grade (joint matcher), dual electric grade, or glade and slope control systems.
For product info, visit: leeboy.com
Gehl
Gehl provides an option among "Power Box" commercial tracked asphalt pavers with basic 8-foot screeds. The 36-horsepower 1448 Plus weighs 7,775 pounds, carrying a 4-ton-capacity hopper; the 48-horsepower 1648 Plus has a basic operating weight of 10,600 pounds with a 6-ton hopper. Standard on both box-gravity feed models is a full-floating, adjustable, vibratory screed. On the 1448, this screed can use a strike-off plate extension to push paving width out to 12 feet; on the 1648, it has a fully heated wear plate to stretch paving width to 13 feet. A front lip was added to each Yanmar-powered model's hopper to retain asphalt as the truck unloads and pulls away from the paver. This is designed to both protect the paver's direct-drive track system from contamination and help provide an even finished mat. With indicator lights monitoring engine preheat, temperature and oil pressure, as well as the battery, an electronic control module provides audible warning alarms and an automatic preheat timer. For transportation, fold-up hopper wings cut machine width to 8 feet 6 inches.
For product info, visit: gehl.com
Vögele
With paving widths extending from 2 feet 6 inches to 16 feet 5 inches, the Vögele Super 1300-2 tracked asphalt paver offers the largest operating range in the sub-125-horsepower class, suiting it for paving jobs from foot and bike paths to streets and parking lots. A basic transport width of 5 feet 11 means the 100-horsepower Super 1300-2 can be placed in tight working spots, yet its maximum paving depth of 10 inches surpasses all others in the compact class, according to the 2011-2012 Equipment World Spec Guide. No component protrudes beyond the paver's slim silhouette, says Wirtgen America, which introduced the Super 1300-2 and sister Super 1303-2 wheeled model last year. To save fuel and cut noise, the Eco mode will run the paver at 86 horsepower. The Super 1300-2, as with all Deutz-powered Vögele Dash-2 pavers, features the intuitive ErgoPlus control system. Vögele also offers the Super 700, combining highway-class technology in a package able to drive through an opening less than 4 feet wide and pave within 2 inches of obstructions and boundaries.
For product info, visit: hammcompactors.com/us/products
Mauldin
The Mauldin tracked asphalt paver line consists of five basic 8-foot models – all below 100

horsepower – ranging in hopper capacity from 5.5 to 8 tons. Standard on the 1550-D and optional on the 1500-D updated 6.5-ton-capacity models, the Freedom 14 screed launched at CONEXPO-CON/AGG is the third screed model introduced by Mauldin manufacturer Calder Brothers using proprietary technology that matches the extension mat to the main screed's mat automatically. The Kubota-powered, 67-horsepower 1550-D, with its standard 14-foot screed extension, travels at up to 290 feet per minute. With the predecessor Freedom Four screed extending to 13 feet as standard, the Kubota-powered, 60-horsepower 1500-D has a maximum travel speed of 170 feet per minute. At the small end of the product range, the 28-horsepower 550E and 38-horsepower 690F models also offer maximum screed widths of 13 feet, but with 5.5- and 6-ton hoppers respectively. At the large end is the 1750-C, powered by a Cummins standard 85-horsepower or optional 99-horsepower engine. The 8-ton-capacity paver is available with the Silver 16 screed, kicking paving width out to a maximum 15 feet 6 inches.
For product info, visit: 4amauldin.com
Carlson
A longtime manufacturer and supplier of screeds for asphalt pavers, Carlson moved into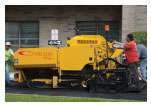 the production of the actual carriers themselves with the 2008 launch of the CP-90, an 84-horsepower, 8-foot-standard, rubber-tracked paver. An Astec company, Carlson leveraged the technology of sister company Roadtec, a full-sized paver manufacturer that did not offer a model in the commercial market space. The CP-90 has the same conveyor chains, slats and augers as a 10-foot-class Roadtec paver, and with an operating weight of about 18,800 pounds is among the heaviest pavers in the 8-foot class. Still capable of paving widths extending up to 15 feet, the Carlson paver is equipped with the electrically-heated EZ screed, standard with a 16-kilowatt gen set mounted to the tractor. Advanced-design heating elements are in direct contact with the upper surface of the main screed plate to deliver even, controllable heat. This, says Carlson, ensures consistent fluidity and smooth asphalt laydown, and helps contractors meet clean-air standards by eliminating the smoke created by diesel-powered, flame-heated screeds. Maintenance costs to repair warped screed plates and burner boxes are likewise eliminated, the company says.
For product info, visit: carlsonpavingproducts.com