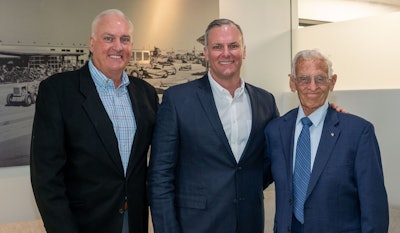 Hawthorne Cat
Hawthorne Cat has promoted David K. Ness to president and CEO for all Hawthorne divisions. He succeeds his father Tee Ness, and grandfather, Tom Hawthorne, in the role of president.
A 20-year Hawthorne veteran, Ness has held various positions, including engine business manager at Hawthorne Power Systems division and vice president of sales, responsible for the San Diego and Hawaii regions. In 2015, he was promoted to chief operations officer and senior vice president.
"Hawthorne is a family-run business and I'm proud to say that I am only the third president in our 65-year history," says David Ness. "At Hawthorne, our mission is to help our customers build better communities, and I look forward to the continued and new partnerships with our customers that keep our communities strong".
Hawthorne Cat is the authorized dealer for Cat construction and power equipment in San Diego, Hawaii, Guam, Saipan, and American Samoa. Hawthorne sells, rents, provides parts and service, training, and emission solutions to various industries including general building construction, landscaping, marine, paving, and power generation.
Hyundai adds First Choice Farm & Lawn to Network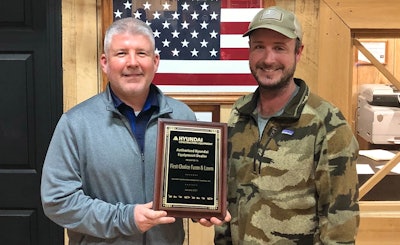 Hyundai Construction Equipment Americas added First Choice Farm & Lawn to its dealer network. Owned and operated by brothers Ron and Don Parks since 2012, First Choice is building their fifth location outside of Memphis. The firm also represents Kubota and Exmark.
Althorfer Rents adds Naperville, IL store
Altorfer Rents, a Cat Rental Store, has opened a new Naperville, Illinois location, replacing the existing Elmhurst, Illinois, store. The Naperville facility is one of fifteen Cat Rental Store branches throughout the Altorfer territory of eastern Iowa, northeastern Missouri, northern Illinois, and western Indiana.
Durante Rentals replaces Carmel, NY store
Durante Rentals has opened a new 20,000-square-foot store in Carmel, New York, replacing a previous store in the city. The Carmel store is the company's second location in Putnam County. The facility will rent boom lifts, backhoes, air compressors, forklifts, excavators, generators, and scissor lifts among other items.The space also will feature a fully stocked parts department and a 10,000-square-foot service center.
PacWest Machinery adds to leadership team
Industry veterans Cameron Preston and Jonathan Oney have joined Volvo Construction Equipment dealer PacWest Machinery. Preston will serve as general manager of western Washington and previously held management positions at Honnen Equipment and Wheeler Machinery in Utah. Oney is the company's director of product support and formerly held service and sales positions at Atlas Copco, Epiroc and Dynapac.
PacWest's Volvo CE territory includes Washington, Oregon and northern Idaho. It also represents products from Metso, GOMACO, Tymco, Etnyre, Blaw-Knox, Yanmar and Takeuchi.
LiuGong appoints Industrial Repair Service of Wausau
Industrial Repair Service of Wausau has become LiuGong North America's forklift dealer in Wisconsin. The company was founded in 1981 by Larry Muelver.
Alta Equipment takes on Tadano Cranes
Alta Equipment has become an authorized distributor of Tadano all-terrain and rough terrain cranes, Demag all-terrain cranes and Tadano-Mantis telescopic boom crawler cranes in Illinois and Indiana. Alta will sell and service these models, including the new 172-ton Tadano GTC-2000 coming later this year.