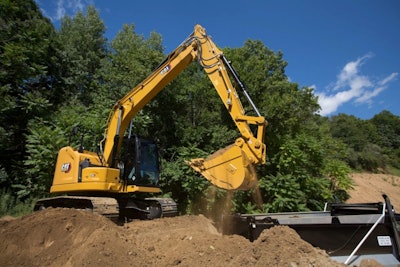 Caterpillar
Citing declining demand and lower dealer inventories, Cat says it saw a 22% decline in sales during 2020, going from $53.8 billion in 2019 to $41.7 billion in 2020. Worldwide, Cat dealers reduced their inventories by $2.9 billion during the year.
In Q4, Cat's sales declined by 15%, declining from $13.1 billion in 2019 to $11.2 billion in 2020.
While noting the challenges of the Covid-19 pandemic on company results, Jim Umpleby, Cat chairman and CEO, asserts: "We are well-positioned for the future and will emerge from the pandemic as an even stronger company." He adds that Cat achieved its adjusted operating profit margin established during its 2019 Investor Day and continued to invest in products and services.
Although not reported in the quarterly and year-end release, it's worth noting that December North American retail sales were down 9% in total. North American construction machine retail sales were down 8%. Retail sales are reported on a 3-month rolling period compared with the same period of the prior year.
Going forward, Cat said it would update its retail sales report on a quarterly basis instead of monthly, according to a Wall Street Journal report.
Cat Financial
Cat Financial reported revenues of $2.55 billion for 2020, a decrease of $416 million, or 14%, compared with 2019. In Q4, revenues decreased 15% compared with the fourth quarter of 2019
Retail new business volume for the year was $10.76 billion, a decrease of 9% from 2019. Cat says it saw lower volume across all segments except in the Asia/Pacific region, which saw an increase.
Cat Financial says past dues were 3.49% at the end of 2020, compared with 3.14% at the end of 2019. This decrease was blamed primarily on the impact of the Covid-19 pandemic.