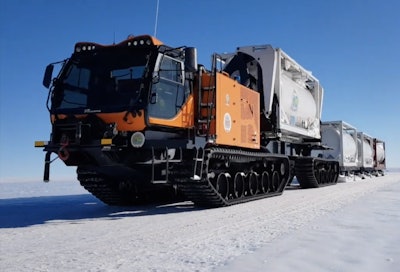 Vermeer intros CTX160 stand-on track loader: More power in a still-small package
Vermeer debuted its latest addition to its line of mini skid steers, the CTX160, during the 2019 GIE+EXPO in Louisville, Kentucky.
According to Brett Newendorp, landscape marketing manager with Vermeer, customers wanted the ability to lift more with their machines but wanted a similar footprint as the CTX100.
To read more, click here.
---
New Terramac crawler carriers are made for utility work with booms, digger derricks
Terramac took the opportunity at the recent ICUEE show to demonstrate the varied attachments its crawler carriers can handle.
On display at the company's booth were its 14-ton-capacity RT14U model equipped with a 75-foot boom and its 6-ton RT6U with a 47-foot digger derrick.
The "U" in the model name refers to "utility." For these models, Terramac extended the frame out on the front and rear for mounting outriggers and a winch. The design also allows for a longer bed.
To read more, click here.
---
Nissan reveals 2020 Titan XD: Beefed up structure but same engine as Titan
On the heels of revealing the 2020 Titan and this lineup's refreshed look, Nissan has now introduced the larger Titan XD and answered some lingering questions raised by the smaller truck's introduction.
And while we do have answers, they're not exactly reassuring—at least if you're hoping the new strategy brings Nissan a bump in truck sales.
The big news for the 2020 Titan was supposed to be a new look for these trucks. Instead, most of the discussion around them has centered around Nissan's decision to drop the Cummins diesel option available on the first-generation Titan XD due to a lack of demand. Unfortunately, there won't be a second engine option filling its space on the new XD.
To read more, click here.
---
Deere offers new mechanical angle blade for 950K, 1050K dozers
John Deere has developed a new mechanical angle blade for its 950K and 1050K crawler dozers.
The blade can be manually angled side to side for such tasks as backfilling, rough grading and general earthmoving, the company says.
Deere says the blade is the result of demand from contractors in the pipeline industry. The company designed the blade to be stronger, more durable, better at shedding material and to reduce blade plugging.
To read more, click here.
---
Massive Prinoth crawler carrier built to haul giant loads hundreds of miles across Antarctica (VIDEO)
The scientists manning the Norwegian research station in Antarctica, known as "Troll," came to crawler carrier manufacturer Prinoth in 2018 with a problem.
They needed a way to haul large loads with fewer personnel and create as little impact on the environment as possible. That meant a fuel-saving and lower-cost solution.
So with the undercarriage of its Panther series crawler carriers as a model, Prinoth developed a machine able to carry 120 tons in one load about 185 miles from seaport to the station, said Prinoth engineering director Eric Steben during a media event at this month's ICUEE show.
To read more, click here.
---