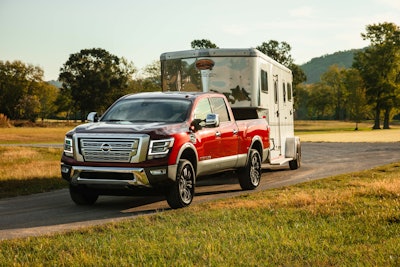 On the heels of revealing the 2020 Titan and this lineup's refreshed look, Nissan has now introduced the larger Titan XD and answered some lingering questions raised by the smaller truck's introduction.
And while we do have answers, they're not exactly reassuring—at least if you're hoping the new strategy brings Nissan a bump in truck sales.
The big news for the 2020 Titan was supposed to be a new look for these trucks. Instead, most of the discussion around them has centered around Nissan's decision to drop the Cummins diesel option available on the first-generation Titan XD due to a lack of demand. Unfortunately, there won't be a second engine option filling its space on the new XD.
Every 2020 Titan and Titan XD, regardless of trim will be powered by a 5.6-liter Endurance V8 gasoline engine delivering 400 horsepower and 413 lb-ft of torque.
Where the new XD does differ from the 2020 Titan is its unique frame and chassis and a wheelbase of 151.6 inches—15 inches longer than the Titan.
Nissan says the truck is built on a fully-boxed, full-length ladder frame that has been reinforced and strengthened on the XD to allow it to tow larger loads than the Titan. What kind of larger loads? We don't have the answer to that quite yet as Nissan has not provided a towing or payload chart yet.
However, a range of hitches are available for the XD and that includes a gooseneck hitch that is integrated into the frame of the truck. So at least fifth-wheel/gooseneck trailering is still a thing on these trucks even if they probably don't have the engine to merit such a thing.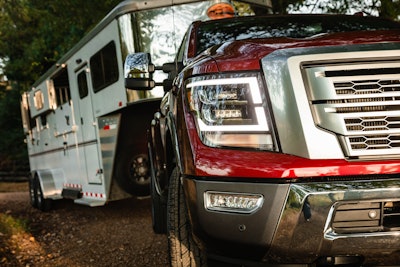 The XD also features a list of towing assistance features including an integrated trailer brake controller, trailer sway control, tow/haul mode with downhill speed control, and a trailer light check system that can be activated with the key fob.
The 5.7L V8 is paired with a new 9-speed automatic transmission and features a larger final gear ratio of 3.692:1, which Nissan says provides more torque at the wheels in a given gear and delivers smoother and faster acceleration.
Apart from the powertrain updates, the main changes for 2020 on the Titan are the new look and all the new technology features. You can read about those in our article from the new Titan's initial reveal, here.
You can check out our video rundown on the 2020 Titan below, as well as more photos of the XD.