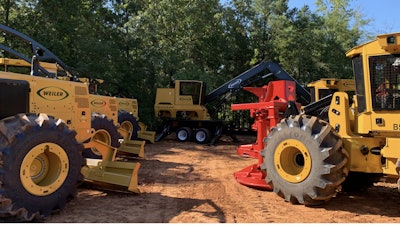 Cat dealer Cleveland Brothers Equipment has added Weiler Forestry products to its lineup. This action follows Weiler's purchase of Caterpillar's purpose-built forestry products, including wheel skidders, track feller bunchers, wheel feller bunchers and knuckleboom loaders.
"Over the past several months, we have been listening to forestry customers and dealer personnel," says Pat Weiler, owner and founder of Weiler Incorporated. "We are excited to implement product expansion plans quickly to better serve the forestry market."
Cleveland Brothers, founded in 1948 and based in Murrysville, Pennsylvania, serves western and central Pennsylvania, northern West Virginia and western Maryland with more than 26 locations.
Founded in 2000, Knoxville, Iowa-based Weiler also manufactures commercial asphalt pavers, remixing transfer vehicles, road wideners, windrow elevators, split-drum compactors and screeds among other paving products. It purchased the Cat purpose-built forestry products last year along with manufacturing, testing and distribution facilities in LaGrange, Georgia; Auburn, Alabama; and Smithfield, North Carolina.
Cat continues to provide forestry excavators designed for log loading, processing and other forestry applications.