Family-owned equipment rental business Atlantic Lift Systems has opened the doors to its third branch in Hampton, Virginia.
The 21,750-square-foot facility includes an indoor service shop, a showroom and offices. Because the property has 4.4 ares of additional land, president and owner Allan Haynsworth says the company has been "aggressively" adding to its fleet of equipment.
The location will rent aerial lifts, telehandlers, material handling and general construction equipment in addition to a variety of small tools including compaction equipment, pumps, generators, air compressors, light towers and more.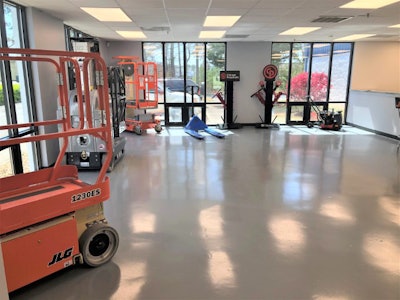 "The added space and the new showroom allow clients to stop in the branch to pick up equipment," says Rick Kidd, Atlantic's Peninsula Territory manager.
"We knew this location would be a great fit for us," Haynsworth adds. "The new facility is a connector between our Norfolk and Richmond branches. This effectively strengthens our service capabilities, making us more responsive to the growing needs of our client base."
Atlantic Lift Systems in headquartered in Norfolk and has another branch in Richmond. The company will host an official grand opening of the Hampton branch on Wednesday, September 18, from 3:30 to 6 p.m. For more information call (757) 251-0676.