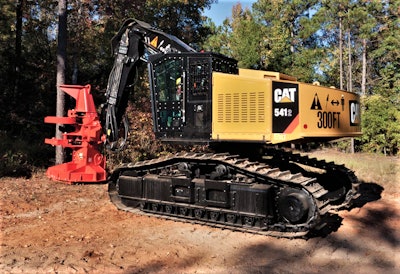 Caterpillar will no longer manufacture heavy equipment built for specific forestry applications, and has announced a preliminary agreement to sell its current purpose-built forestry machines to Weiler.
Included in the sale are Cat wheel skidders, track feller bunchers, wheel feller bunchers and knuckleboom loaders. Cat and Weiler say they still have to negotiate a final agreement, but expect the sale to close in early 2019. Weiler forestry machines will be sold through the Cat and Prentice dealer networks.
Until then, "business will continue as usual," according to a Cat statement issued to Equipment World. The company will continue to take orders for its forestry machines and "production will operate as normal to meet customer demand."
In fact, Cat says high customer demand is the primary reason it is exiting the business. Though that may sound like a contradiction, Cat contends that handing over the business to Weiler will allow the two companies to work in tandem to more quickly meet the demand of an industry that Cat says is very important to both it and its dealers.
"We've determined that while Caterpillar has successfully modified core products like hydraulic excavators to meet the requirements of our forestry customers, we need to take a different approach with our purpose-built forestry products to ensure that our customers' demand for specialized forestry products can be quickly met," reads a statement to Equipment World. "This decision is not a reflection of our team, who has demonstrated exceptional commitment to the business."
The deal expands an already close relationship between the two companies. Founded in 2000, Weiler currently makes a lineup of purpose-built asphalt paving equipment that is sold and supported exclusively through Cat's dealer network. Once the sale is completed, Weiler will take on the design and manufacturing of these Cat forestry machines, with plans to continue their development and expand the product offering.
Because of the longstanding relationship, the deal is essentially a win-win for Cat, allowing the company to hand off the production of a complex product line to a partner company that it trusts and knows makes high-quality machines, while keeping forestry customers close by retaining distribution of those machines through its own dealerships.
Operation facilities, including a manufacturing plant and warehouse in LaGrange, Georgia; a demonstration and training center in Auburn, Alabama; and the legacy Prentice parts distribution center in Smithfield, North Carolina, are included in the sale. Cat says an estimated 270 manufacturing employees supporting the purpose-built forestry lineup will retain employment with Weiler.
"We believe that the purpose-built forestry product line is the ideal addition to our current product portfolio," says Pat Weiler, owner and founder of Weiler, Inc. "We have a proven track record of working with Cat dealers all over the world to respond rapidly to customers with specialized product needs. We are confident that our existing product line, our flexible design and manufacturing strategy, and our unrivaled customer focus will differentiate us within the forestry segment."
"Utilizing the capabilities of both the LaGrange and Knoxville (Iowa) facilities, we have plans in place to expand the existing forestry product line to further meet customer demands," added Weiler.
Not all Cat machines will disappear from the forestry business, however. Cat says it will continue to build forestry excavators designed for log loading, processing and other forestry applications. The company will also continue supplying its other "core" equipment categories to the industry.
Cat says a "small number" of its manufacturing employees will continue to support forestry excavators as well as all Cat purpose-built forestry machines already in the field.
"We remain committed to supporting our forestry customers and the forestry industry," says Tom Pellette, Caterpillar Construction Industries Group President. "The sale of the purpose built forestry business enables Caterpillar and Weiler, through the dealer network, to serve the complete forestry industry while providing customers with the same outstanding sales and service support they've come to expect."