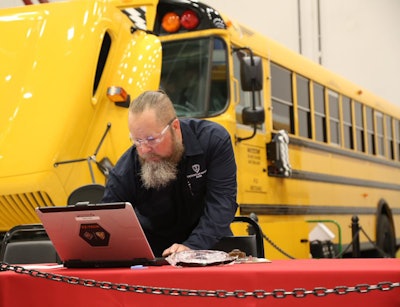 Technicians from Arizona, Canada and Colombia won their categories at Navistar's 2019 Technician Rodeo.
The 13thannual competition at the company's product support center in Woodridge, Illinois, tested the skills and speed of service of top technicians in its dealer network.
Winners were as follows:
Top Service Technician Award for Truck – Brandon Wesselius of Lewis Motor Sales in Owen Sound, Ontario
Top Service Technician Award for Bus – Nathan Reed of RWC International in Phoenix, Arizona
First place in the global competition, which consists of all the regional winners throughout the Americas – Victor Velasco of Navitrans S.A.S. in Yumbo, Colombia
"We are extremely proud of not only this year's winners, but of all the technicians who qualified as finalist for our 2019 Technician Rodeo," said Carlos Junquera, director of product support at Navistar.
This year's competition showcased 20 top service technicians from International and IC Bus dealers across the Americas, with six taking part in the global and bus competitions and eight in the truck competition.
The technicians competed in a series of stations designed to simulate service areas, including truck components and engines. They were scored on how quickly and effectively they diagnosed and fixed simulated problems at each station.
Technicians from the following Navistar dealerships were represented: Riverview International, California; Lewis Motor Sales, Ontario, Canada; Lakeside International, Wisconsin; Maudlin International Trucks, Florida; Summit Truck Group, Arizona; Mid-State Truck Service, Wisconsin; Southwest International Trucks, Texas; Roberts Truck Center, New Mexico; Truck King International, New York; IRL International Truck Centres, British Columbia, Canada; RWC International, Arizona; CADISA, Chihuahua, Mexico; Sun State International, United States; La Antillana Comercial S.A., Dominican Republic; Diamond International Trucks, Canada; Sierra Norte Monterrey, Mexico; and Navitrans S.A.S., Colombia.