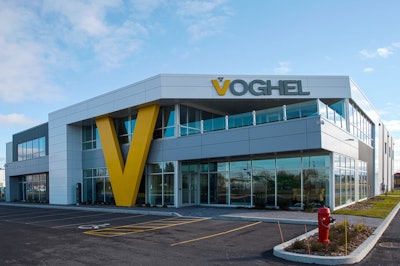 JY Voghel has been named as the Cedarapids distributor for the Quebec province in Canada.
Voghel has specialized in the supply of heavy equipment for the environment and construction industries throughout the Quebec province since 1996, a press release says.
The company's approach is to provide their customers with innovative equipment that gives them high-value-added materials. The company focuses on providing first-rate after-sales service, too.
"Voghel is a great fit for the Cedarapids brand due to their experienced sales force and quality of their service, from purchase right through to after the sale," says Terex Cedarapids Sales Manager Jeff High.
"With a team of product specialists, qualified technicians, a large stock of parts and the expertise of their staff, we look forward to Voghel offering unparalleled support to our customers,"
Pascal Gosselin, who is vice president of strategic development for Voghel, has this to say:
"'Being already dedicated to the crushing, screening, and environmental industries with mobile equipment, Cedarapids brings to Voghel not only solutions to address the needs of our existing clients but also to address new clients, such as major quarries and mines," explains Gosselin.
"Our decision to add the Cedarapids product line to our portfolio is based on high-end testimonials on the quality of their products and also their confirmation of how Cedarapids has been a key part of their success.
"We are confident that, through our constant investment in after-sales parts and service, combined with Cedarapids' constant investment in product development, we will further enhance our ability to meet the needs of our existing clients as well as future new partners.''