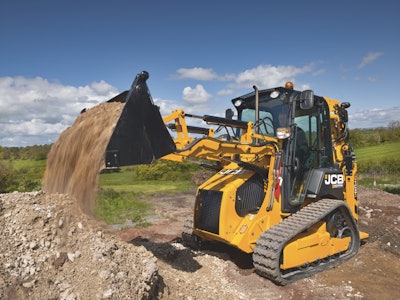 Fuso intros the FE180, the first gas-powered cabover on the market
Fuso at the recent Work Truck Show in Indianapolis debuted its new FE180 gasoline-powered truck.
The first Class 5 gasoline cabover on the market—and part of the Fuso FE GAS Series that debuted last year—is exclusive to the North American market. It is powered by General Motors' 6-liter V8 engine, featuring a power output of 297 hp and 361 lb.-ft. of torque.
"The gasoline truck is the new standard for our medium duty market," says Bill Lyons, Fuso vice president of sales and operations.
To read more, click here.
---
Hitachi intros Grade Guidance system for excavators
Hitachi has introduced a new machine control system for excavators developed with Topcon.
The company calls Hitachi Grade Guidance a "one-stop shop solution" for grade guidance, offering fingertip control and real-time distance-to-grade indication on everything from trenching and shaping ditches to slopes and digging foundations.
"Instead of spending time on the guesswork that goes into achieving the right grade, Grade Guidance monitors it in real time, so our customers can get the job done quickly," says Jonny Spendlove, product marketing manager for excavators at Hitachi Construction Machinery Americas.
To read more, click here.
---
Toro Dingo TXL 2000, once a show-stopping prototype, now in production
Toro's Dingo TXL 2000 compact utility loader made the progression from last year's prototype to this year's production machine during two consecutive American Rental Association Shows.
The distinct feature of the TXL 2000, one that made it the talk at last year's rental show, is its telescoping loader arms. Fully extended, the boom has a hinge pin height of just over 10 feet, allowing it to dump material into the center of a full-size truck.
To read more, click here.
---
Roush unveils 2019 F-150 SC with 650 hp, customizable exhaust
For those wanting the fastest truck on the block—maybe even in the entire town—consider the 2019 Roush F-150 SC.
Legendary Roush Performance offers a 650-hp, 610 lb.-ft. supercharger package with an upgraded premium active exhaust system that will offer just about all the roar you can handle from Ford's 5.0-liter Ti-VCT V8. (For those keeping score, that's 255 horsepower and 210 lb.-ft. over stock).
As an optional upgrade, Roush's premium active exhaust system uses electronic valve technology to allow drivers to choose between touring, sport, wide-open and custom modes via a mobile app or console mounted switch. The active exhaust mobile app enables users to have full control over their truck's sound based on rpm, vehicle speed and accelerator position.
To read more, click here.
---
It's not a compact track loader, it's JCB's 1CXT backhoe (VIDEO)
Don't confuse the JCB 1CXT with a compact track loader, says Diego Butzke, JCB's product manager of backhoe loaders and dumpers. Unlike a CTL or a skid steer, the engine is in the front of the machine. "It is a full backhoe that benefits from the driveability of tracks," he explains. "This is a construction grade machine that will do the job of an excavator and a CTL."
Along with its 19C-1 E-Tec electric compact excavator, JCB showed off the 1CXT at the recent American Rental Show.
To read more, click here.