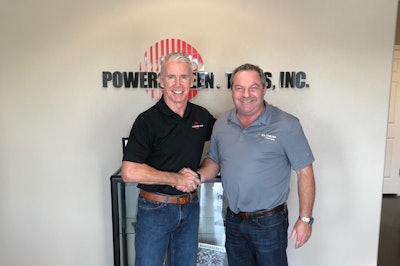 EvoQuip, a Terex brand, has named Powerscreen Texas as its authorized distributor for Texas, Oklahoma, Arkansas and Louisiana.
Powerscreen Texas will sell the full EvoQuip portfolio of compact crushing and screening equipment. Established in 1978, Powerscreen Texas proves products, service and parts.
"We are delighted to take on EvoQuip and be a part of what is a growing brand," says Sam McNabb, president and owner of Powerscreen Texas, adding that the equipment is exceptional.
"Having Powerscreen Texas on board as an EvoQuip distributor strengthens our place in the U.S. market," says McNabb.
Adds Sean Donaghy, EvoQuip territory sales manager: "With over 40 years' experience in the crushing and screening industry, they are a successful distributor for other Terex brands and are an excellent fit for EvoQuip. We welcome them to the team and look forward to building a strong relationship."
EvoQuip says it will host a number of open days in North America in 2019 in partnership with their distributors.
EvoQuip serves the compact crushing and screening markets in six key industries: building and construction; quarries; farming and agriculture; landscaping and gardening and asphalt and concrete crushing and plant and tool hire.
The company is seeking new dealers worldwide.