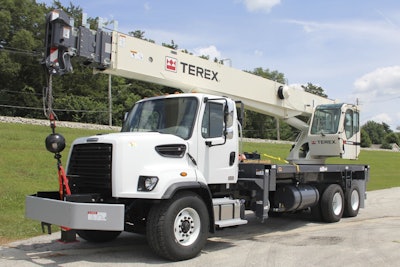 Terex expects to soon announce income from continuing operations of $111.3 million, or $1.45 per share, on net sales of $5.1 billion in 2018.
With a busy year for construction and crane sales up, Terex income from continuing operations, as adjusted, for the full year 2018 is expected to be $208.6 million, or $2.71 per share.
The company will next week release both fourth-quarter and full-year results.
These 2018 results, pending realization, include a one-time, non-cash charge of $67 million related to the annuitization of the company's U.S. pension plan in the fourth quarter. (That process involves converting an annuity investment into a series of periodic income payments.)
Terex says it will release more financial detail and 2019 guidance just before an investors' conference call February 27.
YTD 2018
Income (loss) from
Continuing Operations
before Taxes
(Provision for)
benefit from
Income Taxes (1)
Income (loss)
from Continuing
Operations
Earnings (loss)
per share (2)
As Reported (GAAP)
$
148.7
(37.4
)
111.3
$
1.45
Restructuring & Related
14.7
(2.8
)
11.9
0.16
Transformation
35.9
(5.7
)
30.2
0.39
Pension Annuitization
67.0
(24.4
)
42.6
0.55
Extinguishment of Debt
0.7
(0.1
)
0.6
0.01
Other
1.1
0.6
1.7
0.02
Tax Related (3)
—
10.3
10.3
0.13
As Adjusted (Non-GAAP)
$
268.1
(59.5
)
208.6
$
2.71

(1) Tax effect on adjustments is calculated using the applicable jurisdictional blended tax rate

(2) Based on diluted average shares outstanding of $76.9 million

(3) Includes adjustments without related pre-tax amounts and the tax amount necessary to align quarterly tax expense (benefit) with the forecasted full year as adjusted effective tax rate