Growth in retail used equipment values for general construction and heavy earthmoving equipment has slowed in the past couple of months, according to the July Rouse Services' "The Equipment Report."
These values are still at or approaching 18 month highs, however. In addition, auction values have shown a sustained growth pattern over the past 18 months, Rouse says.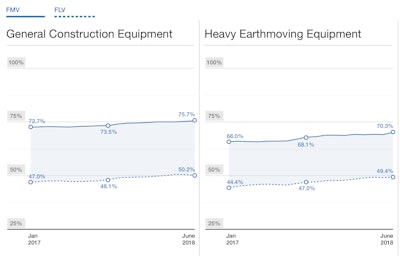 While used general construction equipment values dropped in mid-2016, since then they've shown sustained growth across both the auction and retail channels. Telehandlers, also called telescopic handlers, continue to drive this recovery in the general construction segment in both channels, Rouse says. The heavy earthmoving equipment segment has followed the same pattern, with both retail and auction values trending at peak recovery levels.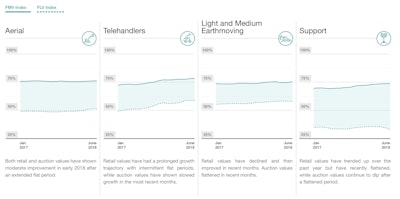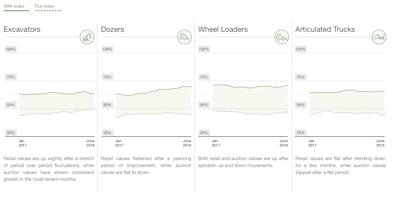 Crane market conditions
Judging sentiment seen at KHL's first Tower Cranes North America conference, Rouse says industry attitudes point to a healthy environment for tower cranes as OEM backlogs and end-user demand both increase. Rental rates, however, have not kept pace with pricing for new tower cranes, but Rouse says overall rental rates are back to the peak levels seen in 2007. Utilization remains strong and several large rental companies report positive outlooks for the next two years.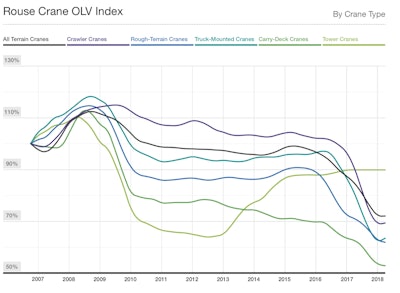 Methodology
Rouse Services tracks used equipment values using two primary methods: collecting prices reported publicly by auction companies, and compiling proprietary used equipment transaction prices reported by its established network of clients – this network includes national, regional and independent rental operations and OEM dealers. Rouse estimates that 70 percent of the RER Top 100 firms are in this reporting network. In reporting these numbers, Rouse uses the terms Forced Liquidation Value (FLV) for auction prices, and Fair Market Value (FMV) for retail prices.
The report examines the current used equipment market environment, dividing its reporting in three general segments: general construction, heavy construction and other equipment. In addition, it goes into the values of the machine types that make up these segments.
Equipment segments
In the Rouse report, general construction equipment includes:
Aerial lifts
Telehandlers
Light and medium earthmoving (including compact equipment)
Support equipment (including gen sets, light towers, etc.)
Heavy construction equipment includes:
Excavators, 75,000 to 99,999-pounds
Dozers, 180-359 horsepower
Wheel loaders, 190-309 horsepower
Articulated trucks
Motor graders (not broken out in the Equipment Report)
In addition to the above, the Rouse report includes coverage of Other Equipment, which adds two equipment subsets: forklift trucks and truck tractors. And every quarter, the report includes a crane market summary which tracks the orderly liquidation value of six crane types: all-terrain, crawler, rough-terrain, truck-mounted, carry-deck and tower cranes.