With 2017 drawing to a close, it's time to take a look back at all the great videos we've come across in the last year. Refreshingly, this year's Top 10 is light on the fail videos and heavy with cool machines going about their work.
These are ranked in order based on the number of clicks you, our dear readers (and watchers), provided. So join us as we take a look back by scrolling through the videos below.
#10: Cat M105 DEUCE a combat dozer that moves 6x as fast as a D5
What do you get when you throw some armor on a D5 and make it capable of speeds up to 30 miles per hour? You get a DEUCE.
The M105 Deployable Universal Combat Earthmover (DEUCE) was first produced by Caterpillar in 1999 under contract with the U.S. Army, according to a page at Military-Today.com. A total of 227 DEUCEs were made and the high-speed combat dozer was a purpose-built machine created to replace the use of Cat's D5 in military service.
Cat powered the DEUCE with a 7.2-liter Cat 3126 engine delivering 185 horsepower in earthmover mode and 265 hp in traveling mode. The machine can be airlifted by the C-130 Hercules and upon being airdropped can be re-assembled for work in less than 30 minutes.
---
#9: Crane tumbles despite loader's help with unwieldy load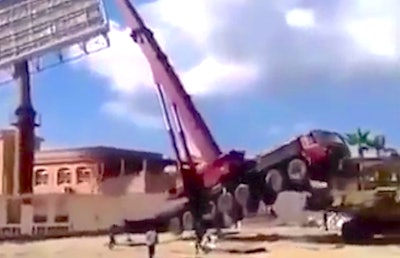 An all-terrain crane is lifting a large billboard in place for mounting. And with this clip, the stupid begins right at the top.
At the spot the video begins, the machine's back wheels are already completely off the ground. But it's ok! These geniuses have strategically placed a loader beneath the back wheels of the crane to provide support via an extended bucket.
But in a shocking twist, the bucket is unable to keep the crane's back end steady and eventually it tumbles forward, sending the crane and that billboard right on top of a nearby structure.
---
#8: How Cat builds D5 dozers: from bare steel to finished product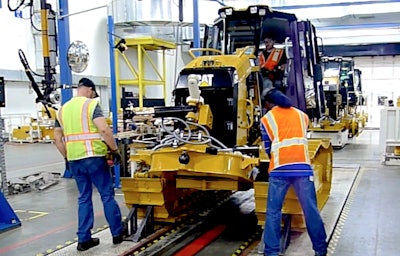 We got a rare chance to peek inside Caterpillar's state of the art Athens, Georgia, facility to see a D5K2 dozer come together from cold, bare steel to finished product. (The factory also makes mini-hydraulic excavators, and D3K2 and D4K2 dozers as well).
The process uses a combination of hand-tack and robot welding, CNC machining, robotic powder coat painting, a lot of logistics and the deft touch of 1,400 skilled workers. Check out our video below to see in depth details on how the magic comes together.
---
#7: Excavator takes direct hit from land mine
According to the description accompanying the below video from LiveLeak, this armored excavator is working at the border between Chile and Peru as a demining vehicle. A few seconds in, a mine detonates absolutely rocking the excavator. Thanks to the heavy armoring, the operator isn't hurt but is clearly shaken from the impact.
This type of work is necessary in Chile which, according to a 2014 article from Motherboard detailing the problem, is a country "littered" with land mines. The mines were planted in the 1980s under the dictatorship of Gen. Augusto Pinochet who, according to the article, "was in the midst of border disputes with all three of its neighbors—Peru, Bolivia and Argentina."
---
#6: Crane flips while lowering backhoe into pit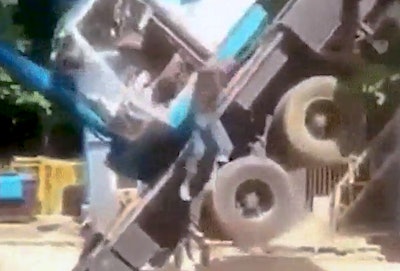 The operator in the video below is lucky to be unharmed after his machine flips completely over while lowering a backhoe into a pit. As the machine begins to leave the ground you can actually see him notice that his wheels are airborne before deciding to bail.
Even after he escapes, it appears that he hits the ground within the footprint of the outriggers, one of which comes very close to hitting him.
---
#5: Caterpillar Buggy is a C12-powered hot rod with Studebaker body, 966 loader grille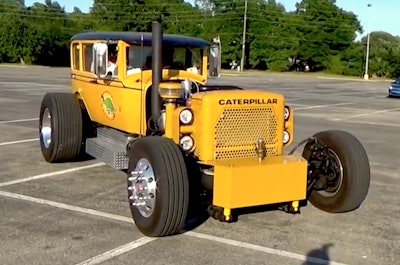 "I wanted something that was a little different," says hot rod enthusiast and builder Snapper Schomaker in a video where he explains the genesis of what he calls the Caterpillar Buggy.
The resulting hot rod definitely delivers on Schomaker's original goal of "different." When you see this vehicle rumbling toward you or even sitting still in the lot of a car show, you take notice.
So what makes a Caterpillar Buggy? Schomaker told Truck Trend he took the front end, 10-speed manual transmission, 425-horsepower Caterpillar C12 engine and a portion of the frame from a 1996 International 9200 tractor and married those components to a 1928 Studebaker Commander. He then installed the grille of a vintage Cat 966 wheel loader paired with the headlights of an old Cat 631 scraper.
---
#4: The Dumphoe was half excavator, half site dumper in one weird little machine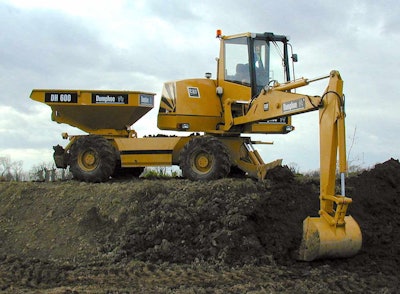 Based on information listed on the Keltec Engineering site dedicated to the machine, the Dumphoe was Frankenstein-ed together using Caterpillar machine components and was powered by a 92-horsepower Cat 3054T engine. The machine could dig, haul and dump and had a load rating of 6,000 kg (13,227 lbs). The unladen weight of the machine was 8,500 kg (18,739 lbs.). It had a two-speed hydrostatic transmission, two-wheel, four-wheel and crab steering and could travel up to 20 miles per hour. Controls were joysticks and it featured load sensing hydraulics.
It's unclear when the Dumphoe was built (the below video was posted by Keltec in 2010) or if it ever went to market in any capacity, though it's no longer listed under the Keltec product listing on the company's new website.
---
#3: Large crane collapses while hoisting section of viaduct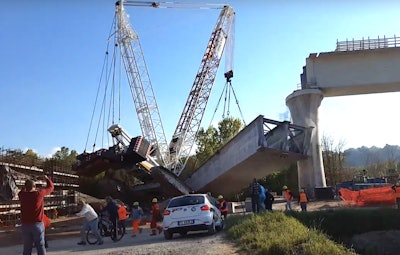 A crane working on the construction of a viaduct in North Italy collapsed in May, and miraculously without any injuries.
According to a report from crane site Vertikal, the crane was performing a lift on a large piece of the viaduct in Varese May 9 at the Arcisate Stabio railway yards when it suddenly overturned.
Below are two videos of the incident. The first shows just the collapse itself while the second shows the moments leading up the collapse as well.
---
#2: Case unveils half dozer, half CTL concept DL450 as "Compact Dozer Loader"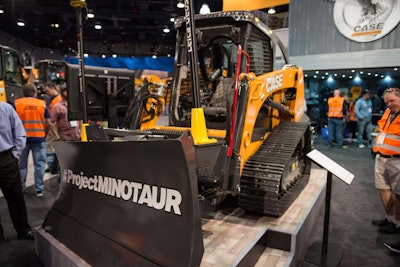 Teased prior to ConExpo as "Project Minotaur," Case Construction Equipment's DL450 is billed as a "Compact Dozer Loader" that combines a compact track loader (CTL) with a dozer
Case says it has more than 30 patents pending on the DL450, which was named after the company's former 450 dozer. The core feature of the DL450 is a C-Frame dozer interface that pins directly into the machine chassis. Case says it provides the stability and smooth operating plane of a CTL, ensuring that all operating power and stresses are channeled through the machine's chassis and not its loader arms.
The C-frame can then be unpinned from the chassis and disconnected like an attachment, allowing the machine to perform as a standard CTL. The unit uses skid steer and CTL attachments.
The concept machine has an anticipated drawbar pull of around 21,000 pounds. The main body was created from the base frame of a vertical-lift Case TV380 CTL. Case then married the base frame with the radial-lift loader arm design similar to that of the former 465 skid steer.
---
#1: Power Dozer's tracked blade can build earth walls, clear minefields, backfill like nobody's business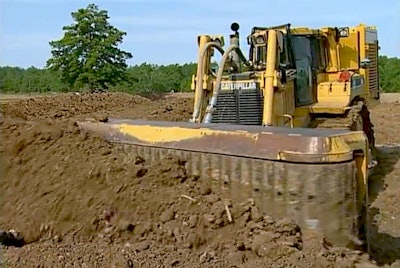 While you might not see a Viking Power Dozer on most jobsites, there probably aren't many earthmoving jobs that wouldn't benefit from having it around. This dozer configuration makes quick work of backfilling and soil relocation but also has several military uses like minefield breaching and clearing. The first Power Dozer prototype was built in 1979 and the company built its first military-specific Cat D8N Power Dozer in 1998. The company says the machine's unique design is the result of nearly three decades of experience in the pipeline construction industry.
What makes a Power Dozer a Power Dozer is its mechanized blade, which has the appearance of someone rigging an old set of dozer tracks they had lying around to the front of a blade. But look closer and you'll see that the steel track's design is flatter, more like a conveyor belt.
The variable speed and reversible belt is driven by two high-torque hydraulic motors and powered by an auxiliary diesel engine mounted on the rear of the dozer. On its website, manufacturer Viking Power Dozer Ltd. (VPDL) says the blade, which can raise, lower and tilt, can load and unload material "at incredible rates," noting that when equipped, the machine is able to move more dirt than it weighs.
You can read more about the Power Dozer at our original post.