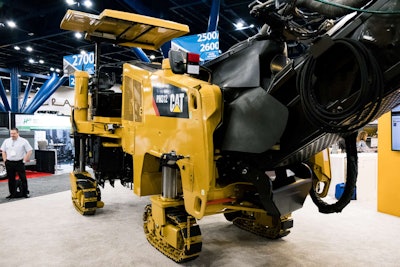 Ditch Witch's 3 new HX vacuum excavators boost productivity, versatility
Ditch Witch focused on boosting productivity and versatility with it new HX-Series of vacuum excavators.
The three models in the series – the HX30, HX50 and HX75 – are equipped with Kubota Tier 4 Final engines that have greater fuel capacity than their predecessors and boost power and dampen noise, Ditch Witch says. Engine horsepower ranges from 24.8 on the HX30, 49 on the HX 50, and 74 on the HX75.
The vacuum excavators are geared toward municipality and underground construction jobs, such as compact urban projects to large-scale excavation, potholing, slot trenching and microtrenching.
To read more, click here.
---
This VR training simulator is the first for construction equipment
A scissor lift virtual reality training simulator, first glimpsed during The Rental Show, may be the start of using such simulators for all types of construction equipment, according to an Edmonton, Canada-based tech company.
Officially launching last week at the IPAF Summit and International Awards for Powered Access (IAPA) in Miami, the VR scissor lift simulator is the result of a partnership between virtual-reality training provider Serious Labs, the International Powered Access Federation (IPAF) and aerial lift manufacturer Skyjack.
"VR has finally arrived in the heavy equipment environment," says Jim Colvin, Serious Labs CEO.
To read more, click here.
---
Ford teases new off-road and electric SUVs, hybrid pickup in truck-heavy preview of product line revamp
The people at Ford are excited.
Fired up, charged, revved up, eager, however you want to put it. That's what just about every Ford employee I've spoken to and heard from in the last 24 hours has communicated about what the company has in store for the next few years.
In fact, folks inside the Blue Oval were so excited about what's coming down the line that they invited media members to an impromptu event Thursday at the company's product development center in Dearborn, Michigan, to reveal details of the automaker's plans to thoroughly revamp its lineup by 2020. They did this while, perhaps a bit cruelly, teasing what the company is calling "the industry's freshest lineup by 2020" without actually introducing the highly anticipated goods (including a certain SUV named for a horse) to the public.
While we have no new trucks to show you, the main takeaway out of this event is that a lot more Ford trucks are coming. And there's quite a bit to look forward to, including a new Bronco, a baby Bronco and a Mustang-inspired electric SUV.
To read more, click here.
---
International unveils MV Series trucks: eventual DuraStar successor brings Class 8 comforts
International at the Work Truck Show in Indianapolis officially launched its new Class 6/7 MV Series truck.
The MV Series, the eventual successor to the DuraStar, completes the company's Project Horizon product refresh and features improved cab design and other driver-centric enhancements already found across International's Class 8 trucks.
"Vocational trucks are low-speed trucks and at anything under 35 miles an hour, aerodynamics aren't as important," says Mark Stasell, vice president of Navistar's vocational truck business, who notes that MV borrowed mostly interior design elements from Project Horizon.
To read more, click here.
---
Unique drive system design key to improvements on Cat's new PM310, PM312, PM313 cold planers
At the World of Asphalt show in Houston last week, Caterpillar launched three new cold planer models in a compact size designed for use in urban areas and other small- to medium-size jobsites.
The machines are powered by a 325-horsepower Cat C9 engine (hence the 3 in the nomenclature), and are available in rotor and chamber widths of 1 meter (39.4 inches) on the PM310, 1.2m (48.2 in.) on the PM312 and 1.3m (51.2 in.) on the PM313.
Cat product manager A.J. Lee gave a media briefing on these new models, which expand Cat's cold planer lineup to eight models and into a smaller size class, and provided some insight on the design process behind them. Lee said these PM300-Series models represent the latest products in the company's customer-fueled re-imagining of its cold planer lineup.
"We started with a big program going back about five to eight years ago, really bringing in a lot of customer feedback, designing from the ground up on how to make a really truly effective cold planer full model lineup," Lee said.
To read more, click here.