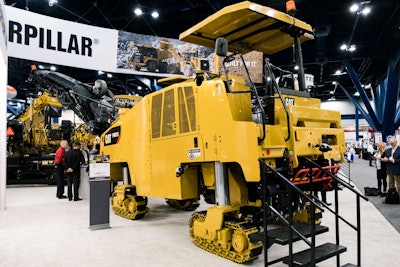 At the World of Asphalt show in Houston last week, Caterpillar launched three new cold planer models in a compact size designed for use in urban areas and other small- to medium-size jobsites.
The machines are powered by a 325-horsepower Cat C9 engine (hence the 3 in the nomenclature), and are available in rotor and chamber widths of 1 meter (39.4 inches) on the PM310, 1.2m (48.2 in.) on the PM312 and 1.3m (51.2 in.) on the PM313.
Cat product manager A.J. Lee gave a media briefing on these new models, which expand Cat's cold planer lineup to eight models and into a smaller size class, and provided some insight on the design process behind them. Lee said these PM300-Series models represent the latest products in the company's customer-fueled re-imagining of its cold planer lineup.
"We started with a big program going back about five to eight years ago, really bringing in a lot of customer feedback, designing from the ground up on how to make a really truly effective cold planer full model lineup," Lee said.
As Lee explained, the design of the chamber and drive system on these new machines opens up a lot of advantages and improvements.
Widths and drive system design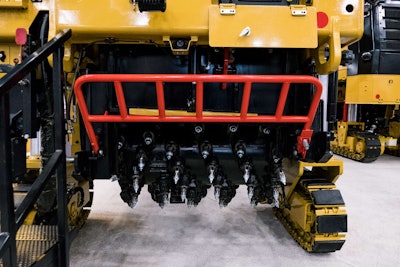 Lee said Cat designers approached the chamber of these 300-series machines a bit differently than other manufacturers in the hopes of "maximizing productivity and the overall envelope of the machine."
"So with the chamber itself most manufacturers start with a 1m machine because it's the predominant international model and then when they get to the bigger machines they basically add either a spacer or a bigger chamber and then the wider drum and keep on going out to the side, he explained. "We are using a unique and proprietary drive system that actually allows us to move the gearbox and actually build the other way into the frame. So by doing that, what you get is what you see here: this edge flush cut is always the same edge flush cut no matter what size machine you get."
The rotor system design allowed Cat to make each 300-Series cold planer the same overall width.
"One of the big things it does is on the transport side is this leg does not have to be pushed out to get the wider drum under it. You don't need a longer leg arm or anything like that," Lee said.
Lee says this design not only brings a higher degree of design and operation commonality between each of the machines in the 300-Series lineup, but it also allows you to leave the leg out as you load the machines onto most trucks.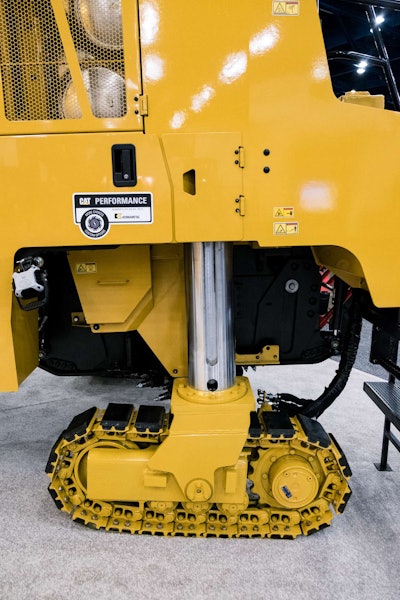 "Sometimes, depending on the manufacturer and previous models, they would often have to move the leg inboard to the flush setting to get it loaded onto a truck. Which, while not inherently dangerous is not the most stable and we've gotten a lot of feedback that they prefer to have this leg out as much as possible for getting into those maneuvers," Lee said.
Lee said the drive system and chamber design also reduces wear on the drum and teeth while increasing productivity.
"Given the position of the conveyor, most of the time (other manufacturers) would center that 1m drum on the conveyor for maximum productivity. And then they build out from there and they've got all that material on that extra .3m, extra foot, that they've got to then carry back to the center which adds extra wear through the drum," he explained. "Actually as we get to the wider packages, particularly here in North America with a 4-foot head, you're actually centering that drum more so on the conveyor because instead of adding further away from the conveyor you're adding to the other side. So it actually does help bring the material more to the kicker paddles which then evacuates the chamber and clears the material out, which helps with productivity, tooth wear, drum wear and all that stuff. It's a big improvement that we've seen."
Package and frame design
Since the 300-Series machines are designed for smaller work areas, maneuverability was obviously a big priority for Cat designers.
"We've made the machine a bit shorter and increased turning angles," Lee said. "This machine has what we feel is the tightest turning radius in the industry… Using that maneuverability, rear steering ability throughout the machine, we think that we've developed a package that will really produce in a city environment and that's what the customers are telling us who have tried it."
Lee said that because the C9.3 is a relatively large engine for machines in this size class, Cat spent a lot of time on the frame design and engine packaging in order to offer easy serviceability and a large water tank.
"We've got color coded wiring harnesses, on board diagnostics, large service openings and ground level access. We think they're the easiest to service machines in this size class," he said. "And instead of having a drop-in water tank or kind of boxing out that and building off a box, we've taken an approach where our whole frame setup creates the water tank. …It really maximizes both engine space and water volume."
Controls and integrated technology
Operators familiar with other Cat cold planers should feel at home on the 300-Series machines as the layout is similar with grouped functions and backlit buttons, Cat says.
"We've carried a lot of those control features down from the big machines to here," Lee said. "The controls on these machines are a bit more condensed and shifted but all the same kinds of controls are there. The main difference is we have integrated the conveyor and the propel joystick so now you have propel and steering but on top you have button access to control your conveyors.
"We've gotten direct customer feedback saying they want to keep controls compact there. They said 'We need the controls but we don't want to overload that panel because that's exactly where we're working. We're sitting there tight, looking at the ground, so we want just what we need to make it concise and clean,' and that was a big effort we went through on the control (design)."
A touchscreen display meanwhile displays gauges along with warning and function indicators as well as the integrated Cat Grade Control option and video from optional remote cameras.
Lee said the integration of Cat Grade Control in these 300-Series machines is very thorough.
"We've carried through the smart cylinders on the legs and the side plates and all the controls so we can have the grade and slope system built into the machine. It's integrated through functions in the display nice and easy. You don't have to add extra things," Lee said, adding that it's a completely scalable design.
"Even if you want to pull in sonic sensors or outside references, you can do that. Even though there's very little pull on this machine just yet, we've already pre-plumbed it with wiring harnesses and software packages for 3D. So if you see the 3D maps up there on the 800, very similarly if somebody does decide in the future that they want to come and get that survey gun accuracy on this machine it's a matter of buying the mast, the gun and the setup and mounting it in there."
Options
Available options on the PM310, PM312 and PM313 include LED lighting, track or wheel undercarriage, Cat Grade Control and a dust abatement system.
Lee said due to OSHA's new silica dust regulations, there has been a lot of interest in the dust abatement system on cold planers.
"Actually, under the new OSHA requirements, you do not need a ventilation on this size machine, however, we've decided, particularly in North America, we're just going to bring it in as a standard option at this point," Lee said. "Again that's customer feedback. People are finding that even if it's not technically required they don't like the dust on the operator's face. Operators want to be in a cleaner environment, and it's just the right move to make all the way around."