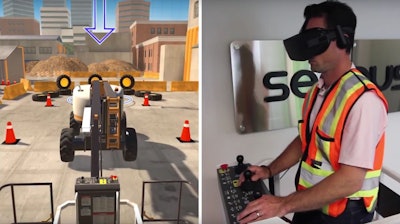 A scissor lift virtual reality training simulator, first glimpsed during The Rental Show, may be the start of using such simulators for all types of construction equipment, according to an Edmonton, Canada-based tech company.
Officially launching last week at the IPAF Summit and International Awards for Powered Access (IAPA) in Miami, the VR scissor lift simulator is the result of a partnership between virtual-reality training provider Serious Labs, the International Powered Access Federation (IPAF) and aerial lift manufacturer Skyjack.
"VR has finally arrived in the heavy equipment environment," says Jim Colvin, Serious Labs CEO.
Adds Brad Boehler, Skyjack president: "VR and augmented reality are here to stay and just as simulation has become the norm in aircraft training, it will transform training for our equipment as well."
The VR simulator, available for sale next month, is designed to take operators through 18 scissor lift training scenarios. Co-developed with UK-based Nationwide Platforms, a division of rental giant Loxam Group, these scenarios become progressively more challenging, isolating tasks around driving, lifting, platform positioning and operating. The simulator also gives users the ability to experience and handle hazards too risky to attempt in real life — such as tight corners, overhead hazards and steep inclines.
Novices are expected to take one hour and fifteen minutes to complete each module; for seasoned professionals, the completion time should be around 45 minutes.
And even though Skyjack is a partner, the simulator takes a brand-agnostic approach, supporting two generic types of lifts: diesel rough terrain and electric slab.
The training scenarios follow IPAF's training program, which complies with the new ANSI standards and draws on the feedback and experience of more than 1,000 active mobile elevating work platform (MEWP) instructors around the world. (Those who successfully complete IPAF's training receive a PAL card, or Powered Access License.)
Serious Labs is combining this scissor lift VR simulator with its previously announced boom lift VR simulator — which won an IAPA award last year — to offer a Aerial Virtual Reality Training Simulator.
Feels-like experience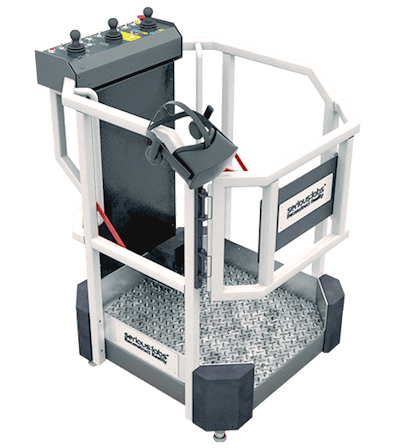 The VR simulator is designed to not only give the operator a feels-like real world experience via VR goggles and an actuator work platform, it also records the operator's movements, providing data that highlights both successes and areas of improvement. This in turn gives trainers the ability to quickly assess and address any weak areas.
The simulator requires an internet connection and functions on a cloud-based delivery system, operating on a basic 15-amp outlet. With a physical footprint of 2 feet 8 inches by 2 feet 8 inches, the full set up measures 4 feet by 8 feet. The kit includes a VR headset, a safety cage, scissor lift controls, and oculus crouch controls, which automatically calibrate the headset for each operator.
According to Wade Carson, director of business development for Serious Labs, using VR is an excellent way to test operator skills. "Even if someone says they're a seasoned operator, you can instantly tell if they are employing best practices," he told Equipment World. "You'd rather discover that on a simulator."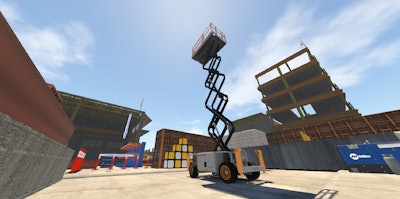 It also should be recognized MEWP skills are ancillary to an operator's real job, Carson says: "Nobody gets a job just as an aerial lift operator, they get a job to sand or paint or weld, and they have to work at height. It's a tool they use."
VR simulator training is also a way to address the one-on-one practical skills training bottleneck. "The practical evaluation is a slowdown point," Carson explains, "and it's also subjective. We want to see if we can figure out a way to get people trained and out the other side."
Manufacturing strategy
Serious Labs and Skyjack are in preliminary discussions to develop a simulator manufacturing strategy. "We believe there will be a global need for simulators in the near future for a wide variety of construction-related equipment and we will need manufacturing partners to help meet that need," Colvin says. Last year, the company won IAPA award for a VR boom lift simulator.
In 2017, both United Rentals and construction tech venture capital firm Brick and Mortar Ventures made a $5 million investment in Serious Labs. United Rentals has a 5-year partnership working with Serious Labs to develop its United Academy training.
Colvin says VR simulators – and any eventual version that may include augmented reality and mixed reality – need to be brand-agnostic. "It's a mistake for a company to build a simulator just for their equipment as a marketing gimmick," he says. "It's about the safety of operating, not about a specific model."