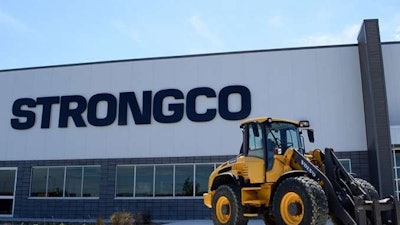 Ontario-based equipment dealer Strongco Corporation's second quarter 2017 revenues decreased roughly 6 percent compared to the same period last year, reaching $95.9 million.
However, earnings before interest, tax, depreciation and amortization (EBITDA) increased dramatically compared to the second quarter of 2016, growing to $3.4 million compared to a loss of $2.4 million last year.
"Slow signs of market recovery in Alberta and Quebec, combined with the strategic actions initiated in 2016 to refocus our core business, boosted overall operating performance in the quarter," says Executive Chairman Robert Beutel. "Against a backdrop of continuing challenges in our key markets, we remain encouraged by the tangible progress made to-date, including enhanced operational efficiencies, a significantly reduced cost structure and an improved balance sheet, in our ongoing efforts to ensure a more profitable and sustainable future for Strongco."
Stephenson Equipment Incorporated (SEI) is acquiring Walsh Equipment, with the latter operating as a division of SEI and continuing to operate out of its two Pennsylvania locations.
SEI was founded in 1957 and is based in Harrisburg, Pennsylvania. It now has four branches in its home state along with two in New York. Walsh is headquartered in Butler, Pennsylvania, with a branch in Edensburg. The combined companies give SEI eight locations and roughly 185 employees in total.
Officials report Walsh Equipment approached SEI earlier this year expressing interest in being purchased.
Hyundai Construction Equipment Americas has added Newman Tractor, based in Bartow, Florida, to its North American dealer network. This addition adds coverage for sales, rentals, service and parts to central Florida.
"The addition to our authorized dealer network of another established, successful dealership continues strengthening our ability to meet the needs of construction equipment customers across North America, and testifies to the value of the Hyundai Construction Equipment brand," says Stan Park, Strategic Distribution, Hyundai Construction Equipment Americas.
Franklin Equipment has opened a new branch in Louisville, Kentucky, which expands the company's regional coverage into the state beyond the locations in Ohio, Indiana, Wisconsin and Tennessee, the company reports.
Franklin Equipment Louisville follows another opening in June of a branch in Nashville, Tennessee.
"We are excited to enter the Kentucky area markets and increase our coverage area for our valued regional customers. We truly appreciate the support of our valued manufacture suppliers," says Troy Gabriel, owner of Franklin Equipment. "Our customers will find our fleet to be the newest equipment available from our equipment suppliers. "
The U.S. construction industry added jobs for a third straight month in July, according to preliminary data from the Labor Department.
Construction added 6,000 jobs, bringing the industry's total employment to 6.899 million Americans.
The July report also brought revisions to June's employment figure. June employment was revised downward from the previously reported 6.896 million jobs to 6.893 million. The change brings what was a month-to-month gain of 16,000 jobs in June down slightly to 15,000 jobs.