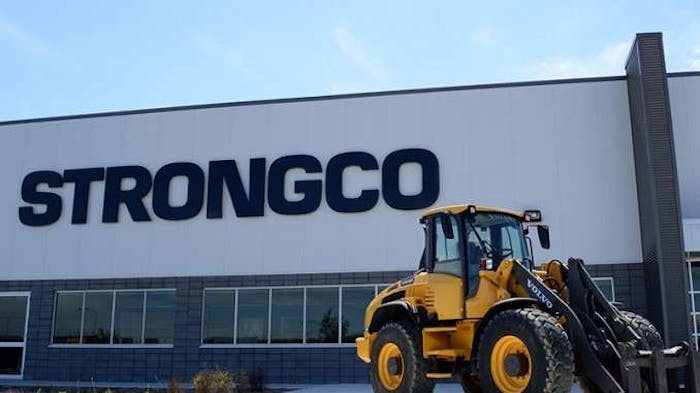 Ontario-based equipment dealer Strongco Corporation's second quarter 2017 revenues decreased roughly 6 percent compared to the same period last year, reaching $95.9 million.
However, earnings before interest, tax, depreciation and amortization (EBITDA) increased dramatically compared to the second quarter of 2016, growing to $3.4 million compared to a loss of $2.4 million last year.
"Slow signs of market recovery in Alberta and Quebec, combined with the strategic actions initiated in 2016 to refocus our core business, boosted overall operating performance in the quarter," says Executive Chairman Robert Beutel. "Against a backdrop of continuing challenges in our key markets, we remain encouraged by the tangible progress made to-date, including enhanced operational efficiencies, a significantly reduced cost structure and an improved balance sheet, in our ongoing efforts to ensure a more profitable and sustainable future for Strongco."
In 2016, Strongco underwent a series of moves to "restructure, simplify and streamline" its business, including the divestiture of its U.S. subsidiary Chadwick-BaRoss.
If large, non-recurring crane sales in Quebec in Q2 2016 are excluded, the company reports its revenues were actually 7 percent higher this quarter.
Comparing the performance of the first six months of both years, the company saw revenues drop 7.4 percent to $179.1 million. Again, excluding the aforementioned non-recurring crane sales, Strongco says revenues increased 6 percent.
Gross profit for the second quarter this year reached $15.0 million, compared to $12.5 million in the same period in 2016. First six months gross profit year-over-year grew slightly to $30.6 million compared to $29.6 million last year.
Before restructuring costs, operating income reached $0.7 million Q2 2017, compared to a $4.5 million loss for the same period last year. Comparing the first half of each year, operating income before restructuring costs reached $1.5 million, compared to a loss of $2.5 million last year.
Strongco says EBITDA for the first six months is $7.8 million, compared to $2.9 million for 2016.
The company says its equipment inventory from continuing operations is $130.8 million, up slightly from Dec. 31 last year, but down by $15.1 million from June 30, 2016. Strongco reports equipment notes payable from continuing operations of $119.5 million, up from $101.2 million at Dec. 31, and down from the $128.2 million reported at June 30, 2016.