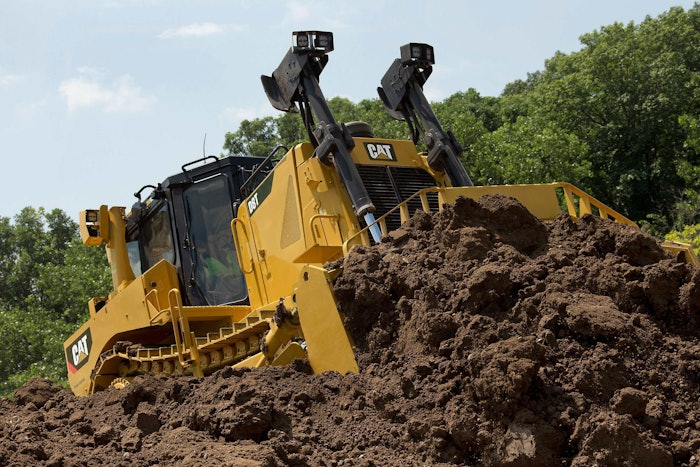 Following a ConExpo appearance where Cat allowed attendees to try out its Remote Operator system and operate a D8T 1,700 miles away, the heavy equipment manufacturer is now announcing several other productivity options for this dozer.
For starters, Cat is now offering a new blade for the D8T that increases capacity by 19 percent over this machine's standard blade. The 13.4 cubic-yard Semi-U Blade allows operators to move more material per pass and can boost productivity by up to 13 percent.
For further blade augmentation, Cat is now offering new Performance Cutting edges.  Cat says these edges cut soil in a way that increases blade load mass by up to 25 percent. Cat says the edges dig deeper, improve blade control, load retention and traction. They also allow the D8T to more easily penetrate hard or frozen ground conditions and moderate rock. The edges are interchangeable with traditional edges, offer equal wear life/life-cycle costs to standard cutting edges and do not require mid-life edge flip or end bit replacement.
McLaughlin recently launched two innovations in its auger boring machine lineup. The company's McL-60 marks its largest boring machine, and its Steerable Rock System (SRS) has the first steerable head designed to handle solid and fractured rock.
McL-60 Workhorse
Able to install steel casing up to 60 inches in diameter, the McL-60 Workhorse packs a 218-horsepower, turbocharged Volvo engine and can produce bores up to 700 feet long.
Along with increased size, the McL-60 comes with McLaughlin's new remote-control feature, which enables it to be operated from outside the excavation pit.
Kobelco has been busy as of late, introducing a variety of new excavators and a slew of improvements to previous models.
The new models include compact excavators with improved fuel-efficiency and noise reduction, and conventional excavators with increased digging force. Kobelco also upgraded its SR Series and demolition excavators.
The Wacker Neuson TH627 telehandler is designed to be a versatile, three-in-one machine, the company says.
It comes with a universal attachment plate allowing it to dig and carry like a wheel loader and use multiple attachments like a skid steer with a compact footprint. As a telehandler, it has a lift height of 18 feet 7 inches and lift capacity of 5,500 pounds.
The TH627 automatically adjusts load positions to prevent tipping and improve performance. Its bucket mode is used for loading and unloading in more open areas. The operator uses manual controls to raise a load, and when it is lowered, a load management system (LMS) automatically retracts the telescopic arm to keep the load as close to the front axle as possible.
JLG has focused on width for its 4045R and 1532R electric scissor lifts, as in, less of it.
The 4045R comes in at 45 inches wide, while the 1532R's width is less than a yard, at 32 inches. The narrowness makes the machines, which will be available mid-year, easier to maneuver in tight spots and to be transported, according to JLG.
Along with being narrow, the 4045R marks the first JLG electric scissor lift with side forklift pockets to enable a variety of forklifts to load and unload it. The machine also comes with a self-centering feature that uses a five-level scissor design. That means fewer linkage points than six-level models, which improves operator comfort when working at the machine's 40-foot maximum height, the company says.
Volvo boosted power and fuel efficiency along with the addition of a larger cab with its new EW60E wheeled excavator.
Marking the machine's first availability in North America, Volvo has dropped in a D2.6H Tier 4 Final engine delivering 60 horsepower, a 12-percent increase. Fuel efficiency has improved 10 percent over previous models thanks to a the combination of this smaller engine which is equipped with a turbocharger. The machine has a top speed of 18 mph and four-wheel drive.
Volvo increased cab space by 10 percent over previous models, with more room behind the seat and more storage space, including a phone tray, two power sockets, a cup holder and three other storage areas. It also sports a thinner pillar, larger glazed area and larger wiper blades. A rearview camera with a 7-inch LCD display is optional.