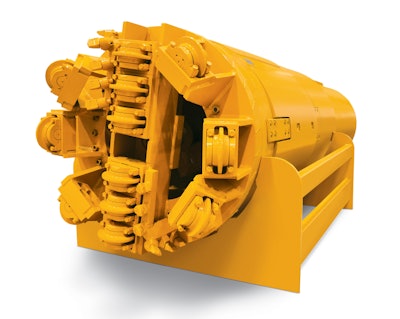 McLaughlin recently launched two innovations in its auger boring machine lineup. The company's McL-60 marks its largest boring machine, and its Steerable Rock System (SRS) has the first steerable head designed to handle solid and fractured rock.
McL-60 Workhorse
Able to install steel casing up to 60 inches in diameter, the McL-60 Workhorse packs a 218-horsepower, turbocharged Volvo engine and can produce bores up to 700 feet long.
Along with increased size, the McL-60 comes with McLaughlin's new remote-control feature, which enables it to be operated from outside the excavation pit.
Other new features include a low-profile engine design that fits beneath the trench box spreader bars. The Eskridge gearbox increases torque over previous models, up to 126,000 pound-feet. And its Rabbit Travel feature speeds the auger-pulling process.
Steerable Rock System
The SRS is engineered to operate in rock up to 25,000 psi, including problematic fractured rock. The half-opened faced design allows fractured rock to enter the cutting head to be crushed or swallowed. Disc cutters break up solid rock, and rock picks handle the leftover fractured rock.
The SRS uses a full-rotational turntable like a track excavator, which eliminates the need for a single main bearing that can seize up the head. An automatic grease system keeps the turntable lubricated.
Other SRS features include four hydraulically actuated steering flaps, a built-in water level and two halogen lights in the control station to indicate left and right steering head movements. It is also compatible with any make or model of boring machine with required torque and between 36 and 60 inches.