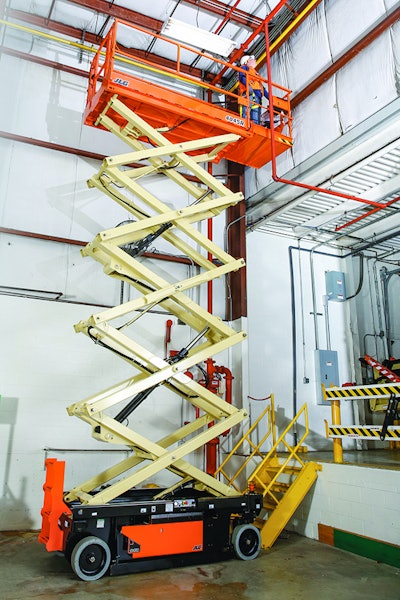 JLG has focused on width for its 4045R and 1532R electric scissor lifts, as in, less of it.
The 4045R comes in at 45 inches wide, while the 1532R's width is less than a yard, at 32 inches. The narrowness makes the machines, which will be available mid-year, easier to maneuver in tight spots and to be transported, according to JLG.
Along with being narrow, the 4045R marks the first JLG electric scissor lift with side forklift pockets to enable a variety of forklifts to load and unload it. The machine also comes with a self-centering feature that uses a five-level scissor design. That means fewer linkage points than six-level models, which improves operator comfort when working at the machine's 40-foot maximum height, the company says.
JLG says the 4045R has an indoor and outdoor rating. It can be driven at full height indoors and a maximum 28 feet outdoors.
The 1523R has a 15-foot platform height and a 600-pound platform capacity.
Both machines come with a pothole protection system, with single limit switch and harness. JLG says it has provided easier access to internal parts and improved the battery charger, which allows technicians to program changes that optimize charge curves for conventional wet or AGM batteries through a USB port.