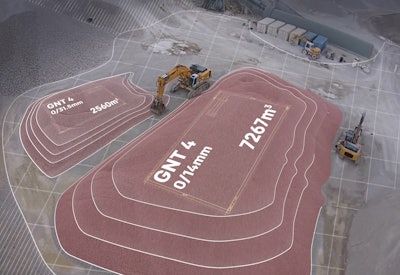 In a move signaling the heavy equipment manufacturer's intent to more fully integrate drones and the aerial data they capture into the workflows of construction jobsites and mining operations around the world, Caterpillar has made an investment in Airware, a company that offers end-to-end commercial drone solutions.
A joint announcement released by Caterpillar Ventures (the company's investment arm) and Airware did not provide a specific figure for the investment, which builds upon a relationship forged between the two companies when Airware acquired Cat partner and French drone data startup Redbird in September. Cat and Redbird began collaborating in January 2016 on enhancing Cat's VisionLink telematics data with drone-captured maps that update progress on a day-to-day basis.
Based in San Francisco, Airware was founded in 2011 in order to develop an operating system for drones that allows businesses to plan, fly and analyze aerial data. The company has raised $90 million in investments.
Airware CEO Johnathan Downey said last year that his company acquired Redbird in order to provide an all-in-one drone solution for the construction and mining industries. At the time of the announcement Cat vice president of Marketing and Digital George Taylor said the acquisition would be a boon to his company's gradual implementation of drone solutions, noting that the deal would "increase Caterpillar dealers' solutions offerings by enhancing their ability to provide an end-to-end enterprise drone solution globally."
In regard to his company's investment in Airware, Taylor says the collaboration between the two companies makes Cat "better positioned to offer drone services through industry-leading technology that helps digitize and optimize operations."
According to the announcement, the primary motivation behind Cat's investment is to allow Airware to roll out a program with Cat dealers that will "make drone services a core part of their business."
Soon, Cat dealers will be able to offer customers photogrammetry, mapping and volumetrics tools along with a suite of advanced analysis and reporting modules. These offerings include Airware's Redbird software which allows customers to monitor day-to-day progress and worker safety and offers site-wide collaboration tools.
European Cat dealer Bergerat Monnoyeur will be among the first dealers to offer these drone services.
"We are committed to bringing cutting-edge technology and world-class services to our customers. Airware is an established leader in putting drones to work for mining, construction, and quarrying. They understand the needs of our customers, what it takes to scale operations, and the importance of offering industry-specific analytics to drive better decision making. We're proud to bring Airware to our customers," says Greg Arranz, Bergerat Monnoyeur's SITECH general manager.