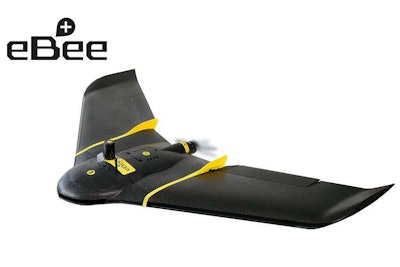 Commercial drone technology company Airware has announced a partnership with another drone manufacturer that will add a different type of aircraft to the company's current offerings.
Airware, which sells drones and end-to-end mapping solutions to construction, mining, surveying and other business customers, currently offers only rotary drones (those driven by a number of rotors). But through a new agreement with senseFly, Airware will now be able to offer the fixed-wing eBee Plus drone to its customers.
The eBee Plus is a lightweight survey-grade drone that can map 220 hectares (540 acres) in a single 59-minute flight. Many surveyors prefer fixed-wing drones to rotary models due to the longer flight times and higher speeds fixed-wing drones are capable of. These advantages make quicker work of surveying large areas than the heavier, slower and more battery-hungry rotary models.
As part of the deal, the eBee Plus will also be sold through Caterpillar dealers. In February, Cat announced an investment in Airware designed to accelerate the rollout of drone solutions in its dealerships and make the technology "a core part of their business."
Dealers will offer services that "combine senseFly's automated data collection with Airware's enterprise-focused workflow, professional services, training, and cloud-based analytics that turn aerial data into business intelligence," Airware says.
"To take full advantage of aerial data, surveyors demand that their tools provide survey-grade accuracy, efficiency, and flexibility. The eBee Plus more than meets these requirements," says Jonathan Downey, founder and CEO of Airware. "Pairing the eBee Plus' aerial efficiency and photogrammetric accuracy with our powerful enterprise-grade workflow enables companies to ensure compliance, enhance worker safety, and capture more accurate, repeatable data to improve decision-making."
The eBee Plus also features built-in RTK/PPL (Real-Time Kinematic/Post-Processed Kinematic) surveying functionality.
According to the U.S. Geological Survey, "RTK procedures do not require post processing of the data to obtain a position solution. A radio at the reference receiver broadcasts the position of the reference position to the roving receivers. This allows for real-time surveying in the field and allows the surveyor to check the quality of the measurements without having to process the data…PPK surveys are similar to RTK procedures, but the baselines are not processed in real-time. PPK involves using one or more roving receivers and at least one reference receiver remaining stationary over a known control point. GPS data are simultaneously collected at the reference and rover receivers. The data are downloaded from the receiver, and the baselines processed using GPS software."
"By combining senseFly's globally-proven, large-coverage eBee Plus platform with Airware's unique cloud-based business intelligence, we are creating a truly enterprise-ready solution; a solution that enables customers to safely collect, and act upon, the geospatial data they need, for example when planning operations, calculating extraction volumes, and monitoring a site's evolution over time," said Jean-Christophe Zufferey, senseFly's CEO.