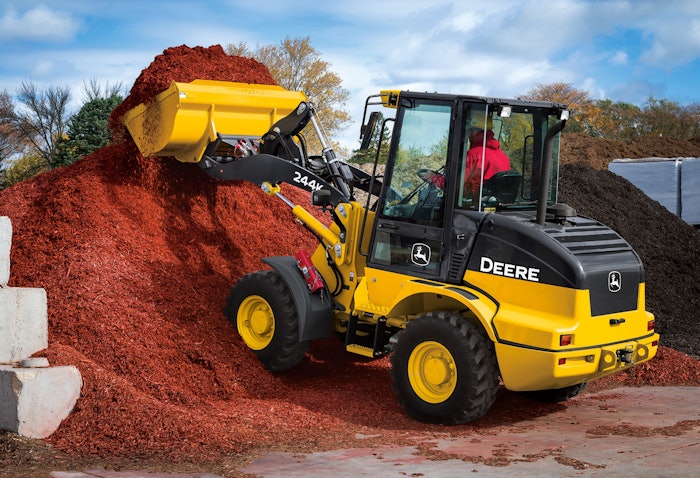 Mack Trucks has introduced Rolling Start and Auto Neutral, two new safety features for its mDrive and mDrive HD automated manual transmissions. The announcement was made during the 2017 World of Concrete show.
Mack Construction Product Manager Tim Wrinkle says the updates are well suited to paving and concrete applications.
"mDRIVE Rolling Start is mainly geared toward paving applications," Wrinkle says. "In a paving application, the paving machine is typically pushing the truck long while the truck is in neutral. With this new feature the driver can go from neutral into drive without pressing the brake. So this eliminates any kind of bump that may have occurred from hitting the brake and stopping that paving machine."
Read the full story here.
Unveiled at the World of Concrete, the new CM 3 Compact Modular Vacuum Lifting System from Vacuworx is designed to give you vacuum lifting capability with skid steers, compact track loaders, articulating wheel loaders and mini excavators.
The modular design can be fitted with different pads and lift to up to 6,600 pounds. It weighs no more than a typical bucket for these types of machines. The host machine's auxiliary hydraulics drive the pumps that provide the suction that adheres the material to be lifted to the pad.
The typical method of removing large sections of concrete is dusty, labor intensive and time consuming; requiring you to jackhammer out concrete sections and break them into pieces small enough to be collected in a loader or skid steer bucket. With Vacuworx, you can saw slabs up into large pieces and pick up and move the entire piece at once. The attachments are also used to pick up, move and place road and trench plates and in some pipe applications.
Read the full story here.
ASV is continuing to expand its lineup of compact track loaders and has now introduced a forestry configuration of the Posi-Track RT-120 it calls "the largest and most powerful in the industry."
The new RT-120 Forestry (F) replaces the PT-110 and is designed for use with the largest of attachments to tackle mulching, brush cutting and highway/utility work.
The machine is also available in dirt and road profiling configurations.
Read the full story here.
Fiat Chrysler Automobiles is contesting a violation issued last week by the U.S. Environmental Protection Agency (EPA) which alleges that the automaker manufactured Ram trucks and Jeep SUVs with undisclosed software that produce increased emissions.
The EPA contends that FCA installed and failed to disclose engine management software that has increased nitrogen oxides (NOx) in 2014-2016 Dodge Ram 1500 pickups and Jeep Grand Cherokees equipped with a 3.0-liter EcoDiesel engine.
The California Air Resources Board, or CARB, has also issued a similar violation to FCA. CARB and EPA are working together to investigate alleged violations of the Clean Air Act.
Read the full story here.
John Deere is introducing updated models of its 244K and 324K compact wheel loaders that the company says are now more powerful and more versatile.
The K-Series versions of these machines were introduced two years ago and this year each new machine has received one major update.
For starters, the 244K-II has been upgraded to a 70-horsepower engine, a 9-percent power upgrade from the 64-hp engine in the previous model. Breakout force remains 10,792 pounds as does full-turn tipping load and travel speed at 8,183-pounds and 17 miles per hour, respectively. Bucket capacity is 1-1.4 cubic yards.
Read the full story here.